Role Models of Faith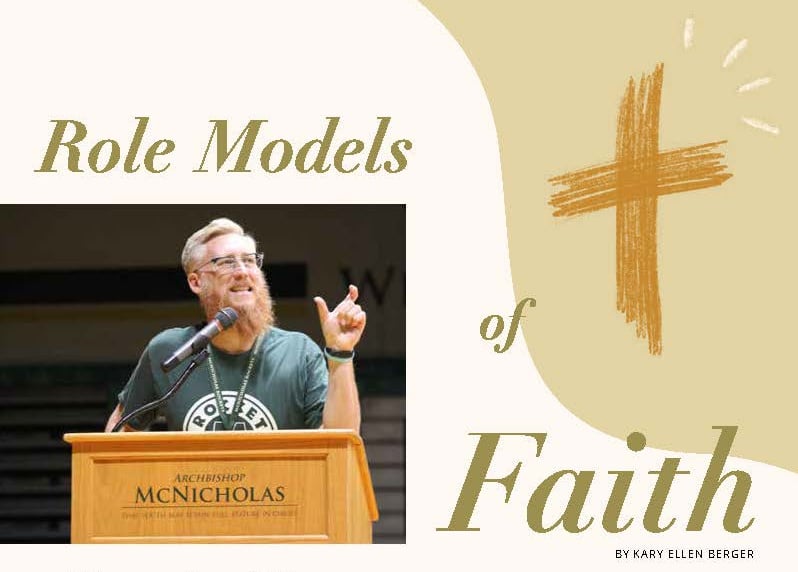 Who are role models?
Dictionaries say they are people others look up to as positive examples. Most of us can name at least one person we identify as a role model in our life. This is true for McNicholas High School theology teachers, Jeff Hutchinson-Smyth and Mary Beth Sandmann. Alumni of the school, they shared that their role models have been family members, current and former faculty and each other.
"I didn't grow up going to church and it really was the teachers at McNick who gave me an up close seat to what it looks like to live in a way that's animated by Christian faith," said Hutchinson-Smyth. "I chose to be baptized my freshman year at McNick and then was confirmed my junior year. I think that owned experience of faith that I had was really a testimony to the witness of a number of different teachers in and beyond the classroom."
Many see Hutchinson-Smyth and Sandmann as role models for their own dedication and service.
"Jeff and Mary Beth radiate a contagious love for Christ and the Church," said McNicholas Principal, David Mueller. "Students admire them as trustworthy and authentic faith witnesses who both level with students about the truths of the faith and inspire them to grow in faith. Both invite students to grow in relationship with Jesus through prayer and the sacraments, and also by following Jesus' example of serving others and implementing Catholic Social Teaching."
With over 50 years of combined experience serving the McNicholas community, the two teach and organize retreats for students. Hutchinson-Smyth is also the Director of Mission & Ministry and Sandmann co-leads faculty and staff adult faith development.
"It's necessary for us to take time out of our busy demanding daily lives to really give focus and to connect with God," said Sandmann. "For students, it's being present in liturgical celebrations and in the retreats that we offer, in addition to classroom instruction. After students graduate, they may not find that opportunity structured for them, so it's important to share this path and community with them."
"We get to see how everything is connected to our celebration of the Eucharist," said Hutchinson-Smyth. "It's not fragmented into going to church for an hour and then shutting off that aspect of our lives and going to class. We show how everything is integrated and connected to God and His glory."
They acknowledged that their jobs are a ministry to both students and adults. Their guidance and love for Christ is exuberant and shared with all at McNicholas High School, said Mueller.
"They both cultivate a spirit of teamwork that draws colleagues and students to take active roles in faith development," said Mueller.
And while their roles could take them elsewhere, Hutchinson-Smyth and Sandmann treasure being at their alma mater and part of its faith-based community.
"We're called to be welcoming and meet students where they are," said Sandmann. "One of the many things that I enjoy doing with my students is look at the upcoming Sunday readings and discuss what speaks to them. This is one way we can guide them and help them grow to be who they are called to be. They're wonderful people with a purpose and we try to affirm that."
This article appeared in the August 2022 edition of The Catholic Telegraph Magazine. For your complimentary subscription, click here.