Preparing to Fly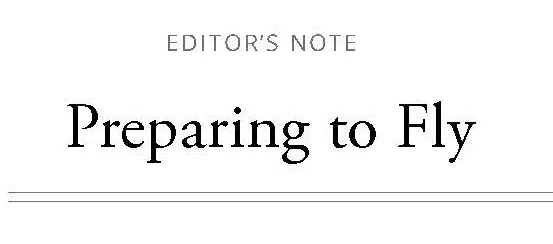 When I look at photos of my children at summer's beginning and then turn to the quickly-growing people standing before me at the school year's start, I'm always taken aback. I shouldn't be—after all, over summer everyone goes up a shoe size or two.
It's bittersweet to watch our children grow in both size and opinions—and the older they get, the more opinions they have. These days I find myself answering questions about everything from how puppies are born to what happens when we die to gender and sexuality. And to think, I once thought parenting would be all about Christmas mornings and perfectly executed vacations. Facing life's difficult moments and answering confusing questions is hard for all of us.
There's a song by Ben Folds called "Still Fighting It": "Everybody knows it hurts to grow up. And everybody does. It's so weird to be back here. Let me tell you what. The years go on and we're still fighting it. You'll try and try, and one day you'll fly away from me."
The older and more independent our children grow, the more those lyrics take root in my soul. "One day you'll fly away from me." It makes me take a good hard look at myself. Have I done my job? Will you be ready to go into the world on your own?
Many times I feel I'm failing miserably. Some days the kids challenge me on faith, on life, on church. They push, they ask, they want to know. I do my best to respond, but at times the answer is simply, "I don't know. I need to do more research and then let's talk." I have to remember they are poking at the nest to see what it's made of. They're looking at the outside world, taking it in, imagining where their paths will lead them. They are pushing so they can take flight. It's my job to be there for them, to be a source from which they seek information so they don't turn to YouTube or someone else who will fill their heads with false information.
But who do I turn to for answers? There are a lot of practical answers. I even reached out to our columnist, Dr. Sodergren, for help with answering their questions on gender and sexuality in the context of Theology of the Body.
The saints have a lot of good advice, too. Pope St. John Paul II said, "It is Jesus that you seek when you dream of happiness; He is waiting for you when nothing else you find satisfies you; He is the beauty to which you are so attracted; it is He who provoked you with that thirst for fullness that will not let you settle for compromise; it is He who urges you to shed the masks of a false life; it is He who reads in your hearts your most genuine choices, the choices that others try to stifle."
I need that reminder regularly: Not only to better align my own life to God's will, but to be a good witness to my children. As this new school year begins and we send our darlings into school without us by their sides, I urge you to pray. Pray for their decision-making, their sanctity, their faith, yes. But pray also for yourself and your spouse, that you—that we—may be good witnesses to our children.