Run for the Call helps young men's vocation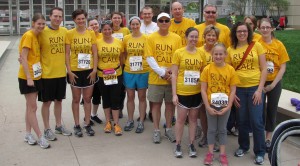 By Eileen Connelly, OSU
The Catholic Telegraph
When the events of the 15th annual Cincinnati Flying Pig Marathon took place the weekend May 4-5, among the walkers and runners was a team dedicated to helping young men in the Archdiocese of Cincinnati take up the challenge spoken about in Acts 20:24 to "finish my course and the ministry that I received from the Lord Jesus, to bear witness to the Gospel of God's grace."
Run for the Call, as the team is dubbed, was established by Wayne Topp, associate vocation director for the Archdiocese of Cincinnati, with the support of Father Kyle Schnippel, vocation director. The number of college seminarians has increased in recent years, Topp explained, accompanied by rising costs to the archdiocese. One effect of these financial burdens is that the seminarians are not able to receive as much aid as they had in the past, and for the first time in 2011, two young men needed to request additional assistance in order to enter seminary formation. It was quickly decided that these students would be given loans that would only need to be repaid if the student left formation. After sitting in on the meeting in which these loans were granted, Topp believed there could be a better way to offer these men assistance that wouldn't put more burden on the archdiocese or on the student if he was to leave the seminary. In thinking about different options to meet these goals, Topp remembered running the Flying Pig Marathon to help raise money for candidates entering a women's religious order and Run for the Call was born.
In 2012, their first Flying Pig Marathon, the 90 members of the Run for the Call team raised $9,000 and assisted five seminarians. This year, said Topp, there were more than 100 team members, including eight seminarians, their family members, friends and acquaintances. An added run-a-thon enabled runners to log their miles for additional pledges throughout April. The final total wasn't available at press time, but Topp estimates approximately $15,000 was raised in support of vocations.
Topp, who ran the half marathon this year, said while the 2012 marathon was meaningful for the team, this year's generated even more enthusiasm because many of the participants had gotten to know each other. "Everyone was so excited to be part of it, excited to be wearing their Run for the Call T-shirts," he said. "I was really struck by how dedicated the team members are to the cause."
The team is always looking for more men and women to join them. Run for the Call participants will pray for any intention sent to them. To volunteer for the team, make a prayer request or donation, visit http://runforthecall.wordpress.com, or send a check made out to Archdiocese of Cincinnati to: Vocation Office, c/o Run for the Call, 100 E. Eighth St., Cincinnati, Ohio 45202.