Second chances: Cincinnati prison ministry celebrates jubilee in Rome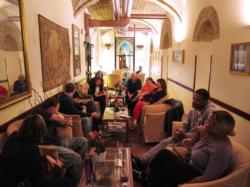 By Junno Arocho Esteves
ROME  — Second chances are hard to come by for people who have served time in prison. They often feel judged and shunned by a society that views them just as former criminals who inevitably will go back to committing crimes.
Nevertheless, for 23 people from the Archdiocese of Cincinnati, mercy, forgiveness and compassion are not simply idealistic concepts but a living reality that brings new hope, even in the most hopeless circumstances.
"Society doesn't have the same compassion and forgiveness that a faith-based organization, the church, has. As a returning citizen, it is something that I witnessed and felt," said Dominic Duren, coordinator of the St. Vincent De Paul Society's Re-entry Program in Cincinnati.
"The reason why I'm here today is because a faith-based organization believed in me, forgave me and had compassion for me when the rest of society just sees me as a mistake," he told Catholic News Service in Rome Nov. 3.
Duren was part of a pilgrimage of returning citizens, mentors, volunteers and staff of the Archdiocese of Cincinnati's prison ministry who traveled to Rome to celebrate the Jubilee for Prisoners Nov. 6 with Pope Francis.
Tony Stieritz, director of the archdiocese's Catholic Social Action Office, explained that the term "returning citizens" better defines those who were formerly incarcerated rather than the judgmental "ex-con."
In celebrating the jubilee for prisoners, Pope Francis is "trying to bring us back to the fundamental understanding of the Catholic faith," he said. Meeting with prisoners and returning citizens "to me is the ultimate message to say that this is how serious we are about this concept of mercy."
Christine Shimrock, director of the archdiocese's prison ministries, told CNS her office spent the entire year in prisons focusing on the theme of mercy and was grateful that returning citizens and prison ministers could conclude the year in Rome with the pope.
"This to me was an amazing capstone to what was already just a blessed year watching men and women come to terms with what mercy means, why do I deserve it and why should I give it away," Shimrock said.
With hands clasped and sleeves rolled up revealing multiple tattoos, Jeffery David Paul Whalen expressed his shock at being in Rome and at the genuine care and love given by prison ministers like Shimrock, who "doesn't want anything from anybody other than what's best for them. Denomination doesn't matter."
Whalen, who came to Rome with his wife Rhiannon, became familiar with the prison ministry after serving a four-year sentence. He admitted that in one instance shortly after his release, he reached a point when he considered taking revenge on an old enemy.
However, at that moment, he called Shimrock.
"I am so against snitching, like absolutely 100 percent against it," he said, so he knew that "if I told on myself, I know I wouldn't do it. So I prayed on it and I called Christine and said, 'Look, I'm going to snitch on myself so I don't do this because I know if I tell you, I won't do it,'" he said.
Not only did he stop himself from hurting the other guy and doing something that would harm his wife and three children, too, he also got involved in the prison ministry.
Tiffany Kelly Hunter, a single mother of three boys, wanted to be involved in something that "would make a difference" after coping with both loss and imprisonment.
Prior to her release from prison in 2005, Hunter said she was told most prisoners returned to jail. Instead of allowing such a grim likelihood rob her of hope, it emboldened her "to do something positive."
"When I was incarcerated, I was told that the return rate (of people formerly incarcerated) was 86 percent. I knew I wasn't going back to jail and I knew that I was going to do whatever I have to do to stay out of jail," she said with tears streaming down her face.
Supported by her mentor Kate Lassiter, Hunter went on to organize a movie night for the children in her community, an achievement that brings both tears and a smile to her face, knowing that she has the potential to bring a little hope and love to others.
Marianist Brother Mike Murphy, executive director of the HELP program for returning citizens, told CNS that people like Dominic, Tiffany and Jeffery are a witness to the power of mercy that has changed their lives and in turn, changed the lives of the wider community.
"When I look at the (people) coming into our group," Brother Murphy said, briefly pausing to contain his emotion, "there is so much talent. I look at these three right here, plus the ones who are still back home — nobody recognizes that talent."
"And what this group does, what we are trying to do, is to nurture that," he said. "It's like a plant: Let's water it, let's manure it, let's feed it and let it grow; that's all we do."