Seek the Lord: Archbishop Dennis M. Schnurr for May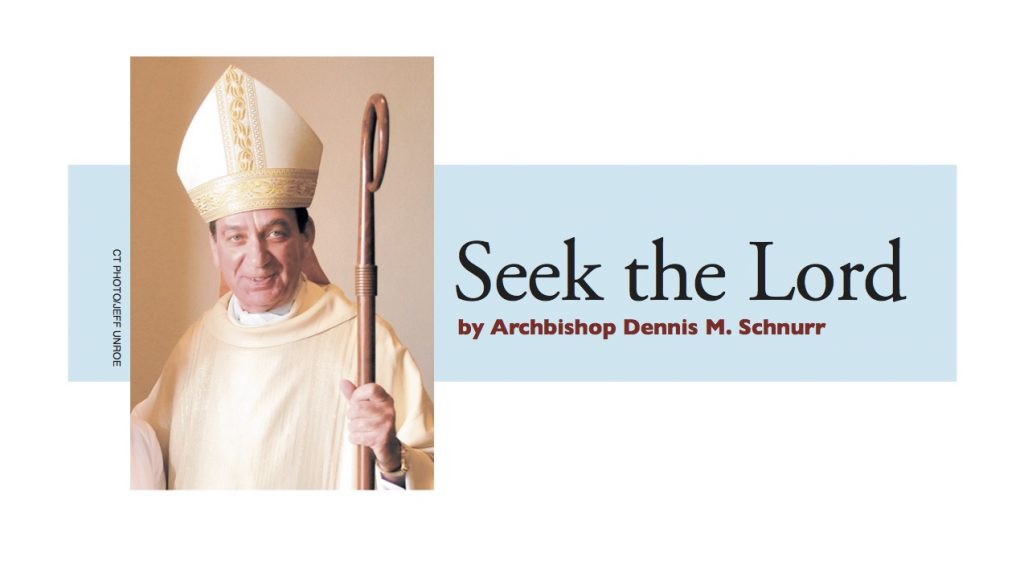 "No one has greater love than this, to lay down one's life for one's friends." (John 15:13)

This passage from the Gospel reading for May 6, the Sixth Sunday of Easter, is one of the most famous sayings of Jesus. Even non-Christians are quite familiar with it. With these words at the Last Supper, Jesus is preparing the apostles for His passion and death on the Cross — the ultimate laying down of one's life for one's friends. At the same time, however, Christ calls all Christians to similar sacrificial love. 
In the same reading, Jesus says: "This is my commandment: love one another as I love you" (John 15:12). That is a tall order! And yet, Christians do it. The world saw a stunning example of this recently in Lieutenant-Colonel Arnaud Beltrame. The French police officer, who was deputy commander of anti-terror police in the Aude region, volunteered to replace a female hostage during a terrorist attack at a supermarket. He was shot in the neck by the terrorist and later died.     
We should not be surprised to find out that Arnaud was a practicing Catholic who had a conversion experience in 2008, at the age of 32. He was received into the Church in 2010 and received the Sacrament of the Sick before he died. The national chaplain of the gendarmerie told a French Catholic magazine: "We can say that his act of self-offering is consistent with what he believed. He served his country to the very end and bore witness to his faith to the very end." 
Here in the United States, we set aside Memorial Day — May 28 this year — as a national holiday to honor all the men and women of our armed forces who unselfishly laid down their lives serving their country and its people. Many of our parishes and cemeteries mark the day with special services. It is well known that Catholic Church teaching sets forth relatively narrow circumstances under which war may be a just undertaking. Yet no matter the moral status of a given conflict, the Church respects the loving sacrifice of those who served and died in it. 
There are also many other ways to give one's life in loving service. The Archdiocese of Cincinnati recognizes that each year with a Blue Mass honoring the sacrifice of police, fire, and safety personnel who risk their lives daily, as well as a White Mass for professional and volunteer caregivers. In their different ways, the individuals honored at these Masses live out Christ's command to love one another as He loves us.   
On May 13, our whole country honors mothers with the observance of Mother's Day. For many of us, our mother is the best model of a life lived for others. "Mothers, in their unconditional and sacrificial love for their children, are the antidote to individualism," Pope Francis told pilgrims during a general audience. 
Motherhood, never an easy vocation, is even more difficult in a culture that is not supportive of traditional values. This is especially so when it must be undertaken without the partnership of the father. In addition, some mothers are impeded by illnesses, addictions, or bad life choices. Whatever their circumstances, however, most mothers have made great sacrifices for their children — some even giving a baby up for adoption for that child's sake. 
In the month devoted to Mary, our Blessed Mother and the Mother of the Church, let us pray for mothers and for all who serve others. Let us also ask the Lord for the grace to follow their example, and His, of loving others and living for others.