Seminarians experience faith, hospitality in Honduras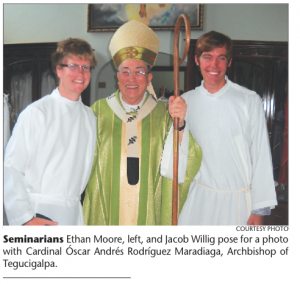 By Eileen Connelly, OSU
The Catholic Telegraph 
Two local seminarians had the opportunity to experience the faith and hospitality of the Honduran people during a trip to the Central American country from June 24 to Aug. 6.
Ethan Moore and Jacob Willig, who are preparing for the priesthood at Mount St. Mary's Seminary visited Honduras as part of an annual exchange program with the Seminary of Our Lady of Suyapa in Tegucigalpa. Seminarians from Honduras also travel to Cincinnati for several weeks to learn about the differences and similarities in religious formation between the United States and their country.
For both Moore, who hails from Sacred Heart Parish in McCartyville, and Willig, from St. Antoninus Parish in Cincinnati, the immersion experience and the chance to fine tune their Spanish speaking skills was one that couldn't be passed up.
"I have a great love for the Latino culture and opportunities like this don't come all the time," said Willig, who studied Spanish in high school and college, traveled to Mexico twice and visited his brother when he was living in Argentina.
Moore took Spanish in grade school and had admittedly forgotten much of it. He was inspired to learn more, when, during his pastoral internship at St. John the Baptist Church in Harrison, he traveled to El Salvador with members of the faith community that twins with a parish there. "I realized how rewarding it would be to bridge the language gap," he said.
The seminarians' time in Honduras began with a stay at the residence of Cardinal Óscar Andrés Rodríguez Maradiaga, Archbishop of Tegucigalpa, the Honduran capital. "It was a seminarian's dream come true," said Moore of their time with the cardinal, which included celebrating Mass with him, both in public and private, and sharing meals.
"The cardinal is such a great witness of the priesthood," Moore said. "He exudes love and a sense of welcome that brings people into his care. He is authentic, holy and is someone who really delights in you. He does everything possible to bring people deeper into Christ's love. That's what I received from him and what I want to give everyone I come in contact with through my priesthood."
"He's so personable and very much a father of the church," added Willig. "He shared so much wisdom with us. His calls the seminarians his sons and cares very deeply about all the people he encounters."
The seminarians' visit also included journeying into the villages outside of Tegucigalpa, where they encountered the deep faith and welcoming spirit of the Hondurans. They recalled staying with two young priests who minister to 30 outlying chapels, tending to parishioners' spiritual needs and administering the sacraments. At the tiny, one room home of a local family, they were welcomed guests and served coffee and bananas.
"Their lives are so simple, yet they find such joy in their faith," said Willig. "They have almost nothing, but gave us everything. It was a real blessing for me to experience that."
The young men witnessed another profound example of faith during a Sunday Mass celebrated by Cardinal Rodriguez. A couple approached the cardinal and presented their newborn to him for a blessing. He then "lifted the baby up for the whole congregation to see, dedicating a new little life to the Lord, even before he was baptized," said Moore, who will be ordained in 2015.
Their time with the cardinal and Honduran people was joyful and inspiring, as was their stay at the seminary in Tegucigalpa. Much of their day was spent studying Spanish, but there was also plenty of opportunity for community building and faith sharing with their Honduran counterparts. They participated in Mass together, bonded over meals and even maintenance duty on seminary grounds, played sports, and celebrated the music of both cultures during both formal gatherings and impromptu jam sessions.
"Our meals together, especially, were a blessing," said Moore. "They really are bunch of unique, wonderful guys."
"We did feel a little out of place at first," Willig admitted, "but they made us feel very welcome and treated us as friends and we had a great time."
Both Willig and Moore returned to their studies with lessons learned that they feel will benefit them in their future ministry. "I was especially inspired by the cardinal and his faith and joy in making the choice for God," said Willig. "I realized that sometimes we get caught up in our own discernment, in waiting, instead of choosing to follow Christ."
In a country where poverty and violence are daily realities, Moore was struck by how the Honduran people still manage to "eat, breathe and sleep their faith. Life is messy for them, yet they seem to say, "Let's be in this together and make it something beautiful.' There's a lesson in that," he said.
This story originally appeared in the October 2013 edition of The Catholic Telegraph