Seminarian's time with Missionaries of Charity a "great blessing"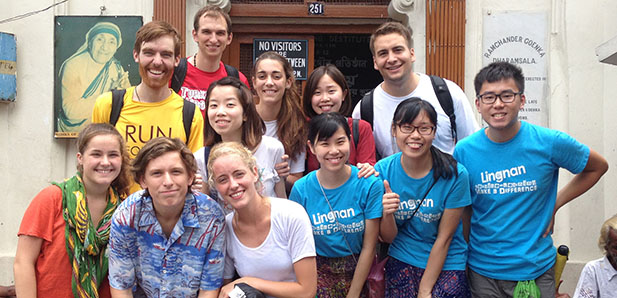 By John Stegeman
The Catholic Telegraph
Just after 4 a.m. on a hot summer morning, Jacob Willig found himself walking the poor streets of Calcutta, India. Walking cautiously amid the smell of burning trash and past people who lived on the streets (his hostel didn't open until 9:30 a.m.) — he was out of place at first.
He eventually reached the Motherhouse of the Missionaries of Charity in time for 6 a.m. Mass.
"It was such a blessing to be at Mass," he said. "It was a great calmness to be there. They sit on the floor, barefoot. It was a great peace.
"After a couple days you realize its very safe, no one is going to harm you," he added. "You just have to watch out when you cross the roads because traffic is pretty dangerous in the afternoons. I was definitely way out of my element."
Willig, an Archdiocese of Cincinnati seminarian, had embarked on a 10-week mission trip as part of his "non-parochial" training to be a priest. While he'd done mission work before in Jamaica and had also visited Honduras, Willig didn't speak the local languages and had never been to India before. He initially planned to do his non-parochial year training to be a hospital chaplain locally, but that didn't work out.
"It was on my heart to go to India," Willig said. "I think Mother Teresa was leading me there."
Blessed Teresa of Calcutta, better known as Mother Teresa, is the founder of the Missionaries of Charity. Now an international religious order with more than 4,500 sisters, it began in 1950 with Mother Teresa and 12 others in Calcutta. Her first home, meant to serve the abandoned, destitute and dying, is still in operation and was the site of much of Willig's work.
After daily Mass and breakfast, Willig spent six days a week working at Nirmal Hriday, which translates effectively to Kalighat, the home of the Pure Heart. The original name was Mother Teresa's Kalighat Home for the Dying Destitutes. Kalighat is the name of the neighborhood and draws its name from the nearby temple to the Hindu deity Kali.
Willig worked from 8 a.m. to noon daily with the men at Kalighat, coming away impressed by the men, and by the sisters who make it their life to care for people the world has forgotten.
In the the home where Willig served is a man named Chapon, but most, call him Brother Thomas. He wasn't a religious, but a patient. Immobile for the most part, his hands were curled and he spent most of his day in a wheelchair. In a city with where less than one percent of people are Christian of any stripe, Brother Thomas had become a Catholic while under the sisters' care. Willig and Brother Thomas came to establish a rapport that made it hard for the seminarian to leave.
"I'd do some physical therapy with him most days," Willig said. "We'd talk to him. He spoke a little but he knew some English for sure. He always knew exactly what he wanted but it sometimes hard for me to understand what he was asking for… It was just a joy to be with him. You see him in this tough condition not really able to move at all or not much, but you just see a lot of joy. We'd have some good times together. Sometimes I'd sing a little bit and he'd sing. He had this great smile but he didn't have a whole lot of teeth. It was a real blessing to be there with him."
The care went both ways, Willig said, as Brother Thomas would often take care to remind Willig not to miss the volunteers' tea time.
The second half of Willig's days were spent caring for young boys of various handicaps at a different home called Daya Dan. Despite the challenges, Willig grew to enjoy working at both places.
It was at Kalighat, however, that Willig was able to truly witness to the zeal and  unique charism of the Missionaries of Charity. One day the sisters brought in a man who was skin and bones from the streets.
"I thought he was going to die that day, Willig said. "They hooked up an IV to give hime some nutrients and fluids. There was a sister there and I was there and we were praying and trying to comfort him. Another sister, one of the more senior sisters, started coming over and started feeding him. She started feeding him some sweets and he was eating it. We thought he might recover and he started looking a lot better."
The next day, a Sunday, the sisters told Willig the man would likely die that day. He died just after Mass.
"It was such a beautiful experience to sit there and pray with this man," Willig said. "There was this Missionary of Charity sister sitting with him at the side of the bed holding his hand, comforting him, stroking his hair. You could almost see her face radiating joy and love for this man. It was a profound experience to witness that."
Willig didn't know that man's religion, but most who come to the sisters are Hindus or Muslims. A handful of those living at Kalighat choose to become Catholic, but conversion of faith isn't the primary goal of the Missionaries of Charity ministry.
"It's the nitty gritty, the very real stuff of life. You have to keep that in mind," Willig said. "There's definitely a conversion of heart."
Willig called his mission experience a "great blessing" and challenged others to engage in similar work to whatever level they are capable.
"Tell people not to be afraid to encounter the poor," he said. "It's important to give a smile or talk to people… Christ is present in them and we can encounter Christ in them. There's poverty in the world, but there's great spiritual poverty here in the United States."
This story originally appeared in the October 2015 print edition of The Catholic Telegraph