Service, faith, academics, activities: Meet Mount Notre Dame Graduate Kate Sampson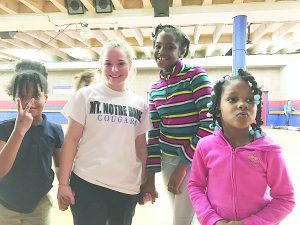 As an eighth grader at St. Columban School in Loveland, Kate Sampson faced what she described as the "culture of high school decision making."
"It's big," she said.
Encouraged by her parents, Jay and Melissa, to "shadow," Sampson quickly realized Mount Notre Dame was the best fit. It's where, the recent graduate said, "I discovered my passion for service."
Sampson initially focused on sports and music at MND, and was grateful for the friendships and joy the activities brought to her life. She remained involved in both during her high school years, but it was an immersion retreat with the Society of St. Vincent de Paul her freshman year that led her to discover she is happiest when serving others. "I absolutely fell in love with service," she said.
She has been active with St. Vincent de Paul both as a volunteer and a paid worker in the Center for Service Learning. She has coordinated food drives, led retreats, planned and led various projects, and lent a listening ear to many neighbors in need of a friend. Besides St. Vincent de Paul, Sampson has worked with victims of human trafficking in various shelters in the downtown area. This past school year, she also served as an executive board member of MND's Youth Philanthropy Council, after serving as a general member of for three years. Through YPC, she has worked with veterans, people with disabilities, and those suffering from addictions.
"Getting to know all these people from different walks of life, learning from them, and loving them has taught me the importance of being an informed global citizen, to leave all judgement to God, and most importantly, never running from His call for me," Sampson said "I see Christ through the people I am blessed to serve, and I know changing the world happens with one person at a time, an open mind, and a whole lot of love."
Sampson will be attending Ohio State University where she'll study nursing through the Morrill Scholar's Program. She hopes to work with an organization such Doctors Without Borders or in outreach to victims of human trafficking. "I'd really like to combine social justice with nursing," she explained. "There's such a need for empathetic people to work in nursing…those who are non-judgmental, adaptable and quick on their feet."
Her time at MND taught her many valuable life lessons, Sampson said. "I learned that one person can make a huge difference, to never be afraid to do something because of your gender or beliefs, and the importance of helping others to have a voice."