Shine On: Death is only the Beginning…and other death-related cliches
"To die would be a great adventure."
– Peter Pan
The 1991 film Hook, though met with little critical acclaim, remains a classic for many Millennials. Directed by the legendary Steven Spielberg and featuring music composed by the great John Williams, the film stars cinema giants Dustin Hoffman, Julia Roberts and the late Robin Williams. A sort of sequel to the traditional Peter Pan story, Hook probably deserves the criticism it received for asking the unimaginative question, "What is there to live for?" and coming up with a fairly emulative answer, "Your wife and kids, duh." But for those of us who, like me, were small when the movie premiered and didn't know how to discern the great themes and deeper questions posed by filmmakers, we saw only a fantasy island, a golden sword, blue oceans, pirate ships, food fights and the promise that happy thoughts will make you fly.
But the original Peter Pan isn't a story about life. It is a much darker tale. J.M. Barrie introduced Peter Pan to the world in his 1902 novel, The Little White Bird. He reworked the story and adapted it into a play in 1904, and, in 1911, Barrie again reworked the story into the book we know today: Peter Pan.
It's about a boy, long lost, who travels the night seeking lost and lonely children to take to a paradise far away from pain where they will never age, and they encounter just enough conflict to make things adventurous. And, although most people only remember the Disney version of the story, we can't forget that the Peter Pan of literature murdered pirates without remorse, killed or expelled Lost Boys for growing up, and was so lost between fantasy and reality that he would feed Lost Boys imaginary meals and disbelieve them when they were still hungry.
I think it presents an excellent example of the postmodern response to death: Run from it, or retcon it.
The Peter Pan story, at first glance, is romantic: You can run away to a fantasy land where you live without cares, without fears, where nothing changes and everything is exactly as you please. But that romanticism turns to dust when you consider how modern man runs from death: We extend adolescence, we hide from age, we reject justice, we eliminate consequence, we pervert responsibility and we ignore the one unignorable thing: death.
Or, like Disney's Peter Pan or even Hook, the story and characters morph into nicer versions of the original. We retcon and dress up death with clever quotes, idyllic, imagined scenarios or fairy tale endings. We romanticize the fear out of death.
Frater Momento Mori. Brother, remember thy death. Brother, remember, you will die.
Don't run from it. Don't romanticize it. Shine a light on it. Someday, you will die. You probably won't get much say in when or how. It's coming whether you like it or not.
Let that reminder inspire how you live today – not with fear or a desire to control the things you can't, but with the grace, hope and peace of Jesus Christ.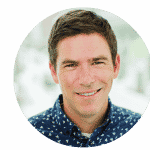 Dominick Albano is the director of digital engagement for The Catholic Telegraph, as well as an author and national speaker. He and his wife have been married for 13 years and have four sons
This article appeared in the April 2021 edition of The Catholic Telegraph Magazine. For your complimentary subscription, click here.