SISTER M. CARMENCITA VOISARD, CPPS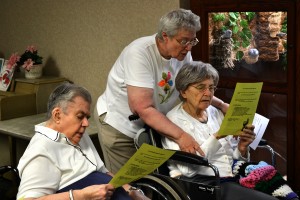 Resurrection liturgy for Precious Blood Sister Carmencita Voisard was held at the Salem Heights chapel, 4960 Salem Ave., Dayton, Ohio, on Wednesday, Jan. 4, 2017. Visitation immediately preceded the liturgy. Sister died at the Maria-Joseph Center in Dayton on Sunday, Jan. 1, 2017. Carmencita, 94, had been a Sister of the Precious Blood for 79 years.
A native of Houston, Ohio, Sister entered the Congregation of the Sisters of the Precious Blood in September 1937 at the age of 15. Her active ministry from 1940-98 was education as a teacher and principal. She educated children in Dayton, Cincinnati, St. Marys, and McCartyville in Ohio; in Rensselaer, Indiana and Denver, Colorado. She served as Supervisor of Schools in Denver, and also in a similar capacity for the Congregation's Sisters in education ministry. She also served as Generalate Councilor. In 1973 she opened and directed the Early Childhood Center in Dayton.
In 1998 she joined her Sisters in retirement at Salem Heights in 1998. In 2011 because of deteriorating health Carmen moved to the Maria-Joseph Center.
Interment will be in the Salem Heights Cemetery.