Sister of Charity of Cincinnati Joan Groff dies at age 90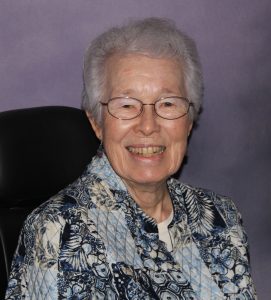 DELHI TOWNSHIP, OHIO – Sept. 10, 2019 – Sister of Charity of Cincinnati Joan Groff died Sept. 2, 2019, at the age of 90 at Good Samaritan Hospital, Cincinnati. Sister Joan was born on Nov. 9, 1928, to Ralph L. and Alvera (Ruther) Groff in Cincinnati, Ohio. She was a Sister of Charity for 72 years.
Sister Joan grew up in Mount Healthy (Cincinnati, Ohio); she attended St. Margaret Mary grade school and graduated from Mount Notre Dame Academy in Reading in 1946. The call to become a Sister began early in grade school, but she didn't decide until later in high school whether it would be the Sisters who taught her or the community where her aunt was a member. It was the humanness of the SCs that helped her decide. "I saw them as persons who had a zest for life and love and relationships," she commented at the time of her Diamond Jubilee.
Sister Joan earned a Bachelor of Science degree in education from the College of Mount St. Joseph (Cincinnati) in 1960 and a master's in education from Xavier University (Cincinnati) in 1972 as well as a master's in psychology from the University of Detroit (Detroit, Michigan) in 1980.
Her more than 55 years of ministry included 24 years in education, time as a provincial superior with her Community, and 24 years of service as a pastoral counselor in the local Cincinnati area. Sister Joan began as an intermediate teacher at Little Flower, Royal Oak, Michigan in 1948. In 1953 she went to St. Teresa, Springfield, Ohio (1953-'59); next it was St. Patrick, Cincinnati (1959-'60); St. Pius, Aurora, Colorado (1960-'62); St. Dominic, Cincinnati (1962-'66); Sacred Heart, Conroe, Texas, as principal (1966-'67); and lastly Resurrection, Cincinnati, as principal (1967-'72).
In 1972 Sister Joan was elected as the Cincinnati provincial, a position she held until 1976. Then she went on to serve as staff to the Life Development Office of the Congregation followed by two years of work on a degree in psychology at the University of Detroit. In 1980 she became a full-time pastoral counselor with the Archdiocesan Counseling Service and in 1987 was named director of the service, while continuing her position as counselor. In 1994 her skills were expanded to treat a larger population than priests and religious, when she joined the Professional Pastoral Counseling Institute, an interdenominational counseling center with a wide variety of clients. In 2001 a stroke weakened her left side, but she continued her counseling at PPI three days a week until 2004 when she retired.
Sister Joan found Vatican II as a freeing agent in her life. The centering prayer movement provided her with a grounding for her life of ministry and compassion. She was active with the Sister of Charity Associate program and particularly enjoyed celebrating ordinary times together with long-time friends. She moved to Mother Margaret Hall in 2007, but remained active in all aspects of community life.
Later, in her retirement years, Sister Joan would refer to her years in pastoral counseling as the most fulfilling of her life. She loved ministering to ministers. She saw her role as helping others to integrate their spiritual, emotional, physical and social dynamics and to move toward wholeness; she believed this enabled them to serve the Church and the world with greater freedom, caring and compassion.
Looking back over her life as a Sister of Charity, Sister Joan reflected, "We as a Congregation are a gifted group of women, giving service to the Church and world, but indeed in the midst of our human struggle together, that transformation of ourselves and of our world happens."
Sister Marge Kloos, in remembering her friend, remarked, "Joan was a loving presence to so many. She had a great capacity for compassion and listening. Her life was about helping others to heal. Even after suffering a debilitating stroke, she joyfully went about her counseling ministry, journeying with many others through their pain and loss. It was a grace to know her in this life."
Sister Joan is survived by her sister Patricia Buck and many nieces and nephews. She was preceded in death by sisters Elaine Temming and Miriam Borchelt.
The Memorial Mass was Thursday, September 12th at 3 p.m. in the Motherhouse chapel. Burial in the Sisters of Charity cemetery has already occurred.
Memorials can be made in Sister Joan Groff's name to the Sisters of Charity of Cincinnati Retirement Fund, 5900 Delhi Rd., Mount St. Joseph, Ohio 45051.
---
The Sisters of Charity of Cincinnati, whose Motherhouse is located in Delhi Township, a western suburb of Cincinnati, is an apostolic Catholic women's religious community that exists to carry out the Gospel of Jesus Christ through service and prayer in the world. Sisters, using their professional talents as ministers of education, health care, pastoral and social services, as well as caring for all creation, currently live and minister in 17 U.S. states, in Guatemala, Mexico and the West Indies. They also sponsor institutions to address education, health care and social service needs, with particular concern for direct service to the poor.
The Sisters of Charity of Cincinnati are joined in mission by 208 Associates. Visit the Sisters of Charity Web site at www.srcharitycinti.org