Sister of Charity of Cincinnati Loretto Burke dies at age 96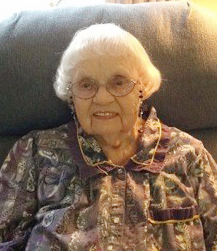 DELHI TOWNSHIP, OHIO – July 10, 2018– Sister of Charity of Cincinnati Loretto Burke died July 2, 2018, at the age of 96 in Mother Margaret Hall, the nursing facility of the Sisters of Charity. Sister Loretto was born Mary Burke, the fifth of seven children on May 23, 1922, to James P. and Laura (Hughes) Burke in Parkersburg, West Virginia. The family moved to Springfield, Ohio, for her father's work when she was 2. She was a Sister of Charity of Cincinnati for 78 years.
Sister Loretto attended St. Raphael School, Springfield, and graduated from Mount St. Joseph Academy in 1939. Her father died suddenly in 1925 leaving her mother with six children and expecting a seventh. In 1928 it was decided that the children would be better off in St. Joseph Orphanage, run by the Sisters of Charity. It was Sister Mary Therese Reagan, recognizing her musical gifts, who taught Sister Loretto piano for six years and violin for four. She owed much to the instruction she received from Sister Mary Therese. Sister Loretto said of that time. "To me 'home' had come to mean 'being with the Sisters.'" When she chose to enter the Sisters of Charity in 1939 it was as though she had 'come home' more fully.
Sister Loretto earned a Bachelor of Arts in music education from the College of Mount St. Joseph (Cincinnati, Ohio) in 1957 and she received a Master of Arts in music from The Catholic University of America, Washington, D.C. in 1965.
Sister Loretto's ministries brought her to New Mexico, Colorado and Ohio; she was a music educator for 30 years in elementary, high school and college. This began at St. Lawrence, Cincinnati (1942-'52); followed by St. Vincent High, Albuquerque, New Mexico (1952-'55); St. Mary High, Chillicothe, Ohio (1956-'60); Cathedral, Denver, Colorado (1960-'62); Marian High School, Cincinnati (1962-'66); Holy Name High, Cleveland, Ohio (1966-'71); and the College of Mt. St. Joseph (1971-'72).
In 1972 Sister Loretto moved into administrative roles at the College of Mount St. Joseph, ministering there for the next 27 years. Her responsibilities included assistant dean, music department chair, weekend college and director of institutional advancement from 1985-'99. She was named adjunct professor of the year in 1982.
In 1976 Sister Loretto wrote and produced A Valiant Woman, a musical work about St. Elizabeth Seton. As part of her preparation she spent time in Emmitsburg, Maryland, working with the letters of Elizabeth in the archives there and being in the environs of where Elizabeth lived and founded the Sisters of Charity. Fellow educators acclaimed her for being able to wed both poetry and music in this production. Throughout her long life Sister Loretto was quick to credit her Sisters of Charity music teachers. It was Sister Agnes Eppley who inspired her to pursue a ministry of music. "I learned that doing good was also doing what you loved doing," Sister Loretto stated at the time of her golden jubilee.
Sister Loretto came to live in the Sisters of Charity nursing facility, Mother Margaret Hall, in 1997, being the first Sister to bring her computer with her in her retirement. She continued to write music, building on spreadsheets she had been using since the mid-1980s. Besides having more time to compose and pray Sister Loretto particularly enjoyed reconnecting with former students of whom there were many. They brought her joy.
Fellow musician Sister Terry Thorman shared, "Thank you, Loretto, for sharing the beauty of your soul through music, and thank you for sharing yourself so simply and generously with me in the years I was privileged to know you in Mother Margaret Hall. You are 'A Valiant Woman' and I know you enjoy with Elizabeth 'O Blessed Eternity!'"
Sister Loretto Burke has no surviving nieces or nephews. She was preceded in death by her sister, Rosalie, who was also a Sister of Charity (Sister Virginia Marie Burke), and brothers John Riley and James, Thomas, Michael and Lawrence Burke.
The Mass of Christian Burial at the Motherhouse chapel on July 12 and she was interred in the Sisters of Charity cemetery.
Memorials may be made in Sister Loretto Burke's name to the Sisters of Charity of Cincinnati Retirement Fund, 5900 Delhi Rd., Mount St. Joseph, Ohio 45051.
---
The Sisters of Charity of Cincinnati, whose Motherhouse is located in Delhi Township, a western suburb of Cincinnati, is an apostolic Catholic women's religious community that exists to carry out the Gospel of Jesus Christ through service and prayer in the world. Sisters, using their professional talents as ministers of education, health care, pastoral and social services, as well as caring for all creation, currently live and minister in 17 U.S. states, in Guatemala, Mexico and the West Indies. They also sponsor institutions to address education, health care and social service needs, with particular concern for direct service to the poor.
The Sisters of Charity of Cincinnati are joined in mission by 208 Associates.
Visit the Sisters of Charity Web site at www.srcharitycinti.org