Sister of Charity of Cincinnati Mary Kathryn McFerrin (formerly Sister Mary Gregory) dies at age 90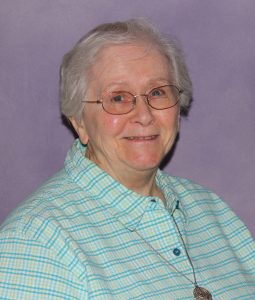 DELHI TOWNSHIP, OHIO – August 5, 2019– Sister of Charity of Cincinnati Mary Kathryn McFerrin died July 29, 2019, at the age of 90 in Mother Margaret Hall, the nursing facility for the Sisters of Charity. Sister Mary Kathryn was born on Dec. 30, 1928, to Charles E and Florentine (Stein) McFerrin in Chillicothe, Ohio. She was proud to be a native resident of the first capital of Ohio. She was a Sister of Charity for 71 years.
Sister Mary Kathryn grew up in Chillicothe, attending St. Mary grade school and graduated from Catholic Central High School in 1947, being taught by the Sisters of Charity, grades one through twelve. Her early remembrances of a call to religious life came in the fourth grade with May processions and May devotions; it was the influence of Sister John Francis Burns in high school that she credits with fostering her vocation.
Sister Mary Kathryn earned a Bachelor of Science in education from the College of Mount St. Joseph in 1957 and a master of education from the University of Detroit in 1967. Her ministries included more than 35 years in education as teacher, librarian and principal, serving schools in the dioceses of Denver, Columbus, Detroit, Cincinnati and Covington, Kentucky. Sister Mary Kathryn began teaching in 1949 at Loyola, Denver; from there she went to Cathedral, Denver in 1952. In 1954 she taught at St. Mary, Marion, Ohio followed by a move to junior high at Guardian Angels, Detroit in 1959. Queen of Martyrs, Birmingham, Michigan (1960-'61) and St. Louis, Mt. Clemens (1961-'64) kept her in the greater Detroit area. Next it was St. Bernadette, Amelia, Ohio (1964-'68) and St. Rose, Lima, Ohio (1968-'70). She received a call to serve as principal at St. Michael, Findlay, Ohio (1968-'76), a ministry she found as both a challenge and greatly satisfying. In 1976 she returned to Marion, Ohio, first at St. Mary and then at Marion Catholic High School (1976-'81).
It was at this time in her life that Sister Mary Kathryn chose to participate in the year-long Active Spirituality Program for a Global Community at the College of Mount St. Joseph, an opportunity she valued; the experience of another culture, the power of Wash. DC, theological reflection, liturgies and the exposure to updated theology energized her greatly. Following this experience she looked to new roles as the librarian at the Mt. Campus School (1982-'83); as an administrative assistant at Corpus Christi school, Newport, Kentucky (1983-'84); librarian St. Charles, Kettering, Ohio (1984-86); arts and crafts, Mother Margaret Hall (1986-'92) and receptionist, MMH (1992-'94). While living as a resident in the Motherhouse S. Mary Kathryn was known for her monthly 'movie nights', complete with refreshments. She moved to Mother Margaret Hall in 2013.
Sister Mary Kathryn felt a passion for social justice issues, especially homelessness and immigration. She believed that if we lived the gospel of Jesus more fully, we, as Church, could eradicate all forms of injustice. Her love for the arts, especially music and watercolor provided ongoing resources for her prayer life. Of the SC Congregation she stated, "I am proud of the 'SC' behind my name. To me it means that I belong to a community that uses its human and financial resources for the continuation of Jesus' mission – charity."
In the Sister of Charity Community Sister Mary Kathryn is well known for her beautiful mandalas, creations she drew while meditating on Scripture verses. She referred to them as sacred circles, a circular creation incorporating circles and triangles; taken together they represent wholeness. She created a new one every day as an important facet of her prayer life with a scriptural reference below. She often gave them away to friends or family members; she created well over 3,000 of them.
Sister Mary Kathryn is survived by nieces and nephews. She was preceded in death by her only sister Dorothy Fogle.
Sisters and family members will greet visitors in the Heritage Room from 2 – 3 p.m. on Wed., August 7, 2019, followed by the Mass of Christian Burial at 3 p.m. in the Motherhouse Chapel of the Sisters of Charity of Cincinnati. Burial will be in the Sisters of Charity cemetery.
Memorials can be made in Sister Mary Kathryn McFerrin's name to the Sisters of Charity of Cincinnati Retirement Fund, 5900 Delhi Rd., Mount St. Joseph, Ohio 45051.
***
The Sisters of Charity of Cincinnati, whose Motherhouse is located in Delhi Township, a western suburb of Cincinnati, is an apostolic Catholic women's religious community that exists to carry out the Gospel of Jesus Christ through service and prayer in the world. Sisters, using their professional talents as ministers of education, health care, pastoral and social services, as well as caring for all creation, currently live and minister in 17 U.S. states, in Guatemala, Mexico and the West Indies. They also sponsor institutions to address education, health care and social service needs, with particular concern for direct service to the poor.
The Sisters of Charity of Cincinnati are joined in mission by 208 Associates.
Visit the Sisters of Charity Web site at www.srcharitycinti.org