Sister of Mercy wins Florence Nightingale award from University Medical Center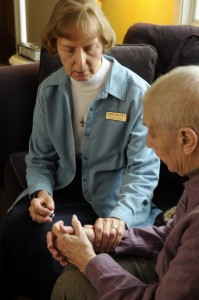 Sister of Mercy Carole Temming, the parish nurse at Immaculate Heart of Mary Parish (IHM) in Anderson Township, received the annual Florence Nightingale Award for Excellence in Nursing from the University of Cincinnati Medical Center on April 25 at a ceremony at the Hyatt Regency Hotel.
Sister Carole was one of seven winners of the award, which recognizes professional nurses for their contributions to patient care.
As the first parish nurse at IHM, Sister Carole has organized a team of medical professionals — doctors, nurses and others — to help the parish connect people to the best patient care service. A registered nurse, she provides home and hospital visits to the elderly, sick and dying. In addition, she has established four distinct support groups:  grief, cancer, Alzheimer's and caregivers.
Sister Carole is also credited with saving the life of a parishioner when she had an AED defibrillator device installed at the parish.
"When I received the call that I was a nominee for the Florence Nightingale Award, I was overwhelmed, honored, humbled and grateful," said Sister Carole. "In my ministry as a Sister of Mercy and parish nurse I try to bring health promotion to our faith community."