Skills for Life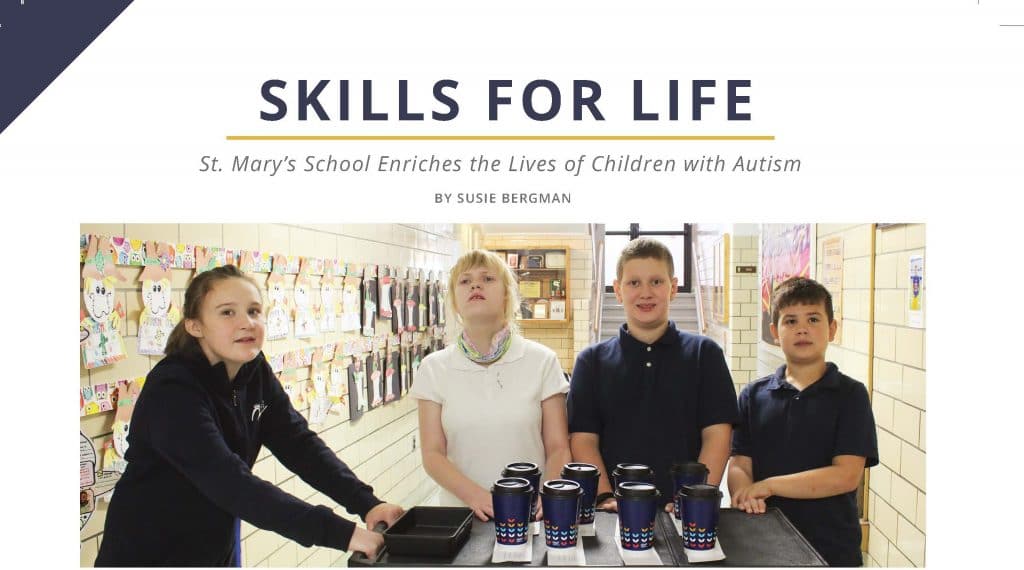 It's been two years since my initial visit to Holy Rosary School in St. Mary's, the only school between Lima and Dayton that has an Academic and Behavioral Learning Enrichment (ABLE) environment that is fully integrated into standardized learning classrooms.
It was initially launched by Principal Lori Krugh when the only company providing these services through the Ohio Autism Scholarship, the independent Board-Certified Behavior Analysts (BCBA), relocated out of state. Krugh's passion for integrated learning led to the program's expansion.
"Along with our four 'Bigs,'" Krugh said, "we now have four 'Littles'!" The four children lovingly referred to as "Littles" are in grades Kindergarten through fourth, and the four "Bigs" are in grades fifth through seventh. Through grants from the local Knights of Columbus and other Ohio charities, Krugh secured funds to provide household equipment for the new Life Skills program. Designed for older students, it encourages personal responsibility by developing those skills needed for independent living. This includes loading and unloading the dishwasher, washing towels for the cafeteria and handling money.
Krugh said that her staff all selflessly agreed that the, now former, teacher's lounge would be a good space for the program's new Life Skills room. Each morning, the teachers submit coffee orders that ABLE students fulfill, meticulously filling coffee cups, reading orders for sugar and cream, then delivering each order with a cart. Teachers pay the ABLE students, who practice math skills to make change. They also deliver a hot cup of joe to Father Alexander Witt in the parish offices next to the school.
Krugh strongly encourages the ABLE students' interaction with the rest of the student body, which fosters positive experiences for everyone. "Harrison sits with his peers at lunch. And Junior High students stop in the Life Skills room to purchase snacks."
The focus in the "Littles" room is primarily on behavioral skills. Teacher Gwen Bergman said many students entering the program have behaviors that impede their academics.
"We meet our kiddos wherever they are," Bergman said. "We do focus on traditional learning they would be introduced to in kindergarten, but also address speech delays and self-help skills such as potty-training."
Beyond school staff and students, the Holy Rosary ABLE program's positive impact is also felt by the community. Krugh and her dedicated staff are expanding their program so that families who would not have access to integrated learning have the opportunity to equip their children with the skills necessary for long-term success. Learn more at: holyrosaryschool.us.
This article appeared in the December 2021 edition of The Catholic Telegraph Magazine. For your complimentary subscription, click here.