Small change can make difference when coins are rare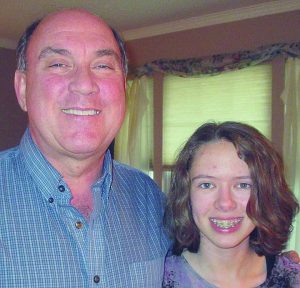 By Paul Clark
Special to The Catholic Telegraph
Small change can make a big difference.
As part of his pledge to One Faith, One Hope, One Love, David Cossentino of Loveland added some coins totaling $1.63. That's face value. But there's a flip side: Their total worth, as evaluated by the Professional Coin Grading Service, amounts to $4,675.
The coins will be sold and the proceeds used for the campaign. Here's the breakdown: an 1807 half-dollar valued at $2,500; an 1875 trade dollar at $1,200, an 1880 three-cent piece at $525, and an 1877 dime at $450.
In addition to their age, the coins bear unusual characteristics. Three-cent pieces, introduced in 1851, remain the second-smallest U.S. coin by weight and diameter ever minted. The denomination was created partly because the cost of a postage stamp had just dropped from a nickel to three cents.
The oldest of the four, the 1807 half-dollar, is especially valued because of a flaw. An engraver's error left the "50" superimposed over a "20" on the obverse side.
Cossentino belongs to St. Margaret of York Parish, which has pledged more than a quarter above its local goal for One Faith, One Hope, One Love. (That's 25 percent, not 25 cents.) He owns a collection of about 10,000 coins that represent not a mere hobby but an investment in which he's a busy trader.
"I'm always selling this coin, moving that coin," he said.
His activities have provided economic lessons for his 17-year-old daughter, Emily, an Ursuline Academy student. "I teach my daughter 'here's how you value this, how to you go to the website, how you get bids,'" he said.
Cossentino's interest began in 2009 when his father, an avid coin collector, passed away. "He had thousands of coins," Cossentino said. He and five siblings bought the collection from their mother.
"Up to that point I wasn't that interested in collecting, but that sparked my interest," he said. "I took the torch and did the same thing."
Cossentino's entrepreneurial spirit is evident from his ownership of two Great Clips hair salons, one on the west side of Hamilton, the other in Fairfield Township. He came to the franchise from corporate life, as a former systems engineer for Tab Products, provider of records management tools and services.
In 1997, while employed at Tab, he also kept books for his brother-in-law's father, a Great Clips owner. In 2000 the three opened another half-dozen Great Clips salons on the east side of Cincinnati. Six years later, Cossentino and his wife bought 100 percent of the ones they still own.
"It was a good choice," he said. "It's not recession-proof, but it's recession-resilient." The busiest time is April, the month of the chain's nationwide Great Haircut Sale, when each cut costs $5.99. The month's total volume for his salons, between 1,000 t0 1,200 cuts, is "almost matched by back-to-school in August."
Running a successful salon is "all about the stylists," Cossentino said, "getting great ones and keeping them."
"I do the numbers. I'm not a licensed cosmetologist. All I can do in the salon is greet people and sweep up hair."
---
Scripture Connection
Luke 15: 8-10: "Or what woman having ten coins, and losing one would not light a lamp and sweep the house, searching carefully until she finds it? And when she does find it, she calls together her friends and neighbors and says to them, 'Rejoice with me because I have found the coin that I lost.' In just the same way, I tell you, there will be rejoicing among the angels of God over one sinner who repents."