St. Francis Mission among those served by XU gift fair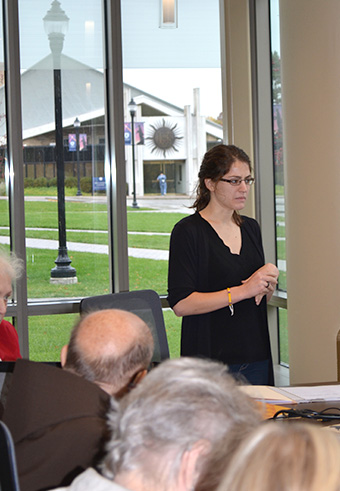 Staff Report
Bellarmine Chapel on the campus of Xavier University will host its seventh annual Alternative Gift Fair on Sunday, Nov. 17.
The fair will take place in the Gallagher Student Center Rotunda and will benefit 13 non-profit groups as well as nine Fair Trade/Direct Sales groups. One of the non-profits served is the St. Francis Mission Foundation. The St. Francis Mission is a Jesuit ministry serving the 20,000 Lakota people living on the Rosebud Indian Reservation in south-central South Dakota.
Davanne Piccini, Stewardship Officer for the St. Francis Mission, spoke to students, staff and religious at Xavier on Wednesday, sharing some of what her organization does to help the Lakota people.
"There is so much outside kindness that is dumped on the reservation in the form of shoes, or jackets, or food… There's no interaction with the people there and the system just goes on and on," she said. "It doesn't change what's happening on the Rosebud Reservation."
Piccini said the St. Francis Mission, under the leadership of its president, Father John Hatcher, has a plan to make a lasting difference. The plan is depicted as a pyramid building from healing, spiritual growth, educational programs, academic formation, leadership and leaders. To learn more about the mission, visit www.sfmission.org.
The Alternative Gift Fair will also benefit St. Aloysius Gonzaga school in Kenya, Kairos Prison Ministry Retreats the Interfaith Hospitality Network and numerous other organizations.