Summit teacher uses diagnosis as lesson in faith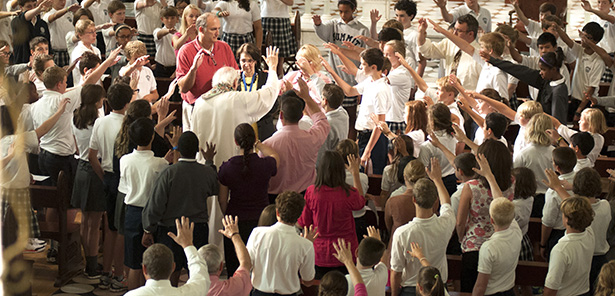 By Eileen Connelly, OSU
The Catholic Telegraph
When Penny Herr was diagnosed with breast cancer in June, she could easily have felt sorry for herself and questioned God. Instead, the dedicated religion teacher at the Summit Country Day School first thought of her students and turned to her faith for strength.
"I worried about my students and who would take care of them," admitted Herr, who has taught at Summit since 2004 and currently serves as the Middle School religion department curriculum coordinator.
After years of regular mammograms and biopsies, the news was obviously frightening for Herr and her husband, Mike, the parents of three grown sons. But, through her deep faith, family support, and the Summit community rallying around her, Herr's worries quickly turned to determination to beat the cancer.
Her breast surgeon, Dr. Karen Columbus, a Summit parent, had a lot to do with that. "She has a great sense of humor and is very aggressive in her treatment of patients. When she looked at my x-rays, she said, 'Well, Penny, you have a little cancer,' with a big smile. That really helped me feel more calm about things."
And, when Herr shared the news with Mike Johnson, director of Summit's Middle School, she was even further comforted. "I cried in front of him, and he was so kind, so supportive. He immediately said, 'whatever you need, just let us know.'"
At the time, Herr said, she wasn't sure what she needed, but what she received from the staff, parents and students was total support, from home cooked meals prepared and delivered during the hospital stay and recovery time for her double mastectomy, to countless cards, emails and phone calls offering well wishes and prayers. "We really are a family at Summit, a community," she said, "and I certainly experienced that."
Summit parent Susan Kelley-Fernandez, who has battled cancer herself, said, " Our family has been blessed to have Penny as our children's teacher. Anything I may have done to help her at this time has been done with tremendous appreciation for all the good care that she has taken of our family.
With the start of the school year, the love and concern Herr's students have for her became obvious. A former student of hers and current senior in Summit's Upper School, Wiiliam Ng wrote a long letter to Herr expressing his concern. And, on the first day of school, eighth grader Charlie Ferguson sent Herr flowers and signed the card, "Fight like a knight!" a reference to the Summit's Silver Knight mascot.
"I just wanted to help Mrs. Herr through a tough time in her life," explained Ferguson. "She's a good teacher who helps teach us life lessons and apply religion to them."
From the beginning of her battle with cancer, Herr was determined to take advantage of the teachable moments along the way. A particularly meaningful opportunity came when the school held a special Anointing of the Sick ceremony for Herr in late August before she began her chemo treatments. Herr, who teaches the sacraments and focuses on how rituals evolve into lived experience, wanted to ensure her students understood the Anointing of the Sick is about healing, not dying.
Led by Father Philip Seher, Summit's chaplain, Middle School students and other members of the community gathered for the ceremony. Father Seher explained the sacrament, anointed Herr's head and hands, and those present then extended their hands over the beloved teacher in blessing.
"The Sacrament of the Sick, in my judgment, receives the dignity and power it offers when celebrated well in community," Father Seher explained. "Penny's husband and her school family were able to come together as a community and be what the ritual says 'the support of the church.'"
"It is also a healthy way for children to be able to discuss illness, and especially cancer in a good environment," Father Seher added. "When I asked one of Penny's classes how many of them have had a family member with cancer, I was shocked that the majority raised their hands. It takes disease from being very quiet, to a public place where all can be a prayer."
It was a powerful experience for Herr, who said, "I really feel like the grace and prayers I experienced strengthened me and contributed to my positive attitude."
In early October, Summit's seventh and eighth grade football teams dedicated their last home game of the season to Herr and to "playing for the cure."
"It was very sweet," said Herr. "And, they won in the last seconds of the game. then they joined hands, walked across the field, stood in front of me and shouted, 'That was for you, Mrs. Herr!' I continue to be lifted up every day by my students and their families. I am blessed!"
At press time, Herr was more than halfway through her chemo treatments, and while often fatigued as a result, she is excited about upcoming plans to schedule her reconstruction surgery. Her prognosis is good with a more than 90 percent chance of being cancer free for 20 years.
Meanwhile, always a teacher first, Herr is continuing to share the journey with her students, staying positive and putting her faith in God. "I really have just given it all to God and am taking it one day at a time," she said. "I have no choice. I had to give it God. He is the one with the power and the grace."
This article originally appeared in the November 2013 edition of The Catholic Telegraph