St. James White Oak uses Pokemon Go to reach out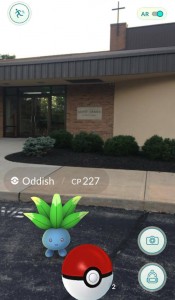 In the middle of summer 2016, an augmented-reality game called Pokemon Go captured the world's attention.
For the game, players must go outdoors to real-world locations—sometimes churches—and walk around, searching for Pokemon to capture. Months later, the hype is down but the game remains one of the most-played and most-downloaded in the world.
In the Archdiocese of Cincinnati, St. James parish in White Oak turned the game into an opportunity for evangelization, and around the archdiocese, the opportunity exists for others to do the same.
St. James in White Oak has three Pokemon Go-related locations. The parish grounds at the intersection of Cheviot and Hubble Roads is a gym, as is the church building itself.  The entrance to St. James Cemetery is a pokestop. Down the street, the St. James athletic fields also have pokestops.
St. James is hardly alone. Catholic pokestops and gyms abound in the Archdiocese of Cincinnati. The Cathedral of St. Peter in Chains is a pokestop. In fact, in downtown Cincinnati the cathedral is joined by a host of pokestops including: Old St. Mary's, St. Francis Seraph, the St. Anthony Messenger offices and St. Xavier. In downtown Dayton, Emmanuel Catholic Church is a gym, while Holy Trinity is a pokestop. In Sidney, the statue of Our Lady of Ephesus at Lehman Catholic High School is a pokestop. Further north, St. John the Baptist and the Shrine of the Holy Relics in Maria Stein are pokestops too.
It is important to note, that while generally accessible, churches are not public property even if they are a pokestop. When playing Pokemon Go, one should be cognizant to avoid trespassing and should behave in a manner consistent with being on church grounds.
When the game's popularity exploded, Parochial Vicar Father Anthony Tozzi saw the opportunity.
"Like many churches we found many people were showing up on our doorstep to play the game, some were our parishioners and others were not," Father Tozzi said. "People who don't go to our church showing up here is a great opportunity that I didn't want to lose."
The priest got together with St. James' faith formation director Nic Kovatch and came up with the idea of distributing cards with St. James medals attached to Pokemon Go players. The cards explain who St. James is, and explain why Catholics ask for his intercession. It also included the parish website and phone number.
"It's very simple and friendly," Father Tozzi said. "I wanted something that got this message across: I'm glad you stopped by today, take this as a remembrance of your visit and you are welcome here."  The parish made the cards in-house and ordered 130 medals. The items were placed in a basket by the doors of the church with a sign for Pokemon Go players to please takeone.
"We put a sign on the doors that would catch player's eyes," Father Tozzi said. "It invites them to get their free gift inside and to feel free to look around our beautiful church. We had church hours and Mass times as well.  We passed out all 130 of them."
With the explosion of excitement of the game dying down, Father Tozzi wasn't sure if he will order additional medals or not. On Sept. 21 Pokemon Go ended its run as the top-grossing game in Apple's app store at 74 days, the third-longest streak in app store history.