'Stir' brings Catholic connection to Reds' Opening Day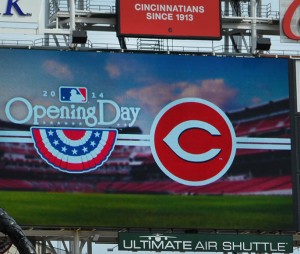 StirIntoFlame.com, an evangelization outreach site sponsored by the Archdiocese of Cincinnati, frequently shares timely and engaging content. With April 4 being Opening Day for the Cincinnati Reds, they've shared a blog post titled "A Spiritual Reflection for the Cincinnati Reds Opening Day."
Thousands of people will come together on Opening Day in a common cause, gathering together for a ritual full of meaning.
The Findlay Market Opening Day Parade kicks off today at noon. Click here to find out what Catholic groups are in the parade and where they stand in the lineup.
"It has often been said that many in the United States treat baseball as if it is a religion. Perhaps there may be some truth to that," the post begins.
The author, Pat McEntee, goes on to note that baseball stadiums are often called cathedrals, prayer and ritual are present at both games and worship, and repeated failure is a part of both baseball and trying to live a Christian life.
Bring a Catholic angle into your celebration of Opening Day by reading this piece. Click the link: A Spiritual Reflection for the Cincinnati Reds via StirIntoFlame.com.
Stir is jointly managed by the Archdiocese of Cincinnati Office of Evangelization & Catechesis and Office of the New Evangelization. Stir is an outreach initiative of the Archdiocese of Cincinnati.