Street evangelists make pamphlets, rosary beads available to passers-by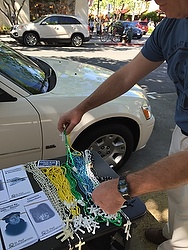 By Michele Jurich Catholic News Service
BERKELEY, Calif. — It's just before noon on a sunny Saturday on Berkeley's Fourth Street, a busy boulevard of upscale cafes, shops and businesses.
The gleaming Apple store is doing a bang-up business in the next newest thing; a steady stream of customers await tables at Bette's Oceanview Diner, where weekend breakfast is a daylong opportunity; across the street, an animal rescue group will soon set up an array of crates of cats that through no fault of their own need rehoming.
The rhythm is so Berkeley. Today, there's a new table in town.
Near that line of waiting pancake aficionados is a table lined with pamphlets with titles such as "Praying to the Saints," "The Bible Alone?" and "Reasons to Return to the Catholic Church." Arranged to the right are dozens of rosary beads.
The sandwich sign on the sidewalk reads:
CATHOLIC
TRUTH
Got Questions?
Free Pamphlets
Need Prayer?
Find True Joy!
And two members of the Berkeley chapter of the St. Paul Street Evangelists make the personal pitch. "Would you like some rosary beads?" they ask a woman who slows down to eye the table.
Yes, please, she replies, sharing that perhaps she shouldn't, she's Episcopalian.
"Well, that's low Catholic," she says, accepting a string of plastic black rosary beads.
And the conversation begins.
David Brandt, a parishioner at St. Joseph Church in Pinole, is the leader of the Berkeley area evangelists, who are part of a network of 190 teams nationwide. He and his handful of fellow evangelists — he's recruiting more — have brought their pamphlets and rosary beads to some places that have a lot of questions.
But St. Paul Street Evangelists know a thing or two about bringing the message to a tough crowd. Founder and national director Steve Dawson did his first evangelizing in Portland, Oregon, before moving the ministry to the Detroit area.
After a 14-month journey with the Franciscans, Dawson did not feel the call to the priesthood and religious life. "I still felt called to be active in the church, specifically in the new evangelization," he told The Catholic Voice, newspaper of the Diocese of Oakland.
The new evangelization, he said, has been endorsed by the past three popes, and its roots run "all the way back to Jesus."
But Dawson said he didn't see much evangelization. "I had heard a lot of talk," he said. "I looked around and I didn't see a lot of feet on the ground."
So he started with his own. He decided to go out and talk to people in Portland, where he was finishing his degree.
Among the city's street vendors culture, the evangelist "fit right in, in a sense," he said.
"We were amazed at the experiences we were having," he said. He said 99 percent of the interactions were positive.
"We weren't in your face," he said. "If people didn't want to talk to us, they kept walking."
But for those who stopped to talk, there were changes. Dawson said one man told him he'd like to come back to the church. Dawson suggested he start with confession, and met him at his church.
When the man came out of the confessional, he said to Dawson, "I'm a new man."
Dawson wanted to "show other Catholics what we were doing," and did so through social media.
From its beginnings in 2012, the ministry has grown to 190 teams, including in two foreign countries, and more than 6,000 street evangelists who receive training and encouragement through the ministry's website, http://streetevangelization.com.
The ministry is based in Michigan, where among his supporters is Detroit Archbishop Allen H. Vigneron, who was the third bishop of Oakland. He headed the diocese from 2003 to 2009.
Although both Dawson and Brandt have some seminary training, it is not a prerequisite to joining the street evangelists. "A love for Jesus and his church" is the main attribute, Dawson said. The evangelist should be a Catholic in good standing.
"We don't make people into theologians," he said. The street evangelization "is not a lot of apologetics," he said.
Street evangelists, Dawson said, do their best to find common ground with a person, make an invitation, make a personal statement and share the good news.
Most of the evangelization teams, he said, set up in a public place. "Lay-run teams that do street evangelization talk to more people in the shortest amount of time," Dawson said.
Brandt's blog is full of encounters that are examples of faith sharing. During a session at El Cerrito Plaza, for example, he met some people who said they would like to attend a Chinese-language Mass. At the downtown Berkeley transit station they were able to direct a new student to Newman Hall.
Sometimes passersby will try to draw the evangelists into debates, which is not their purpose. Evangelists follow up their street work with a brief meeting to talk over what went right, and what went not so right during their time.
Brandt has also taken his ministry, which is less than a year old, to the Berkeley Marina. "The hard part was starting," he said. He said he plans to grow the ministry, which now spends two Saturday mornings a month offering pamphlets, prayers and encounter.
Posted June 25, 2015