Stuff Luke Carey Found for November: Catholic Stuff You Should Know
I dare you to find a better Catholic podcast than Catholic Stuff You Should Know (CSYSK). What began as a simple response to Pope Benedict XVI's call to engage new technologies for the New Evangelization, CSYSK reigns as the preeminent Catholic podcast. Its format is simple but effective. Four priests host CSYSK: Fathers John Nepil, Michael O'Loughlin, Mike Rapp and Nathan Goebel. The hosts all hail from Denver, though two now live in Rome. Hosting duties alternate each week. Fathers Goebel and O'Loughlin host one week and then Fathers Nepil and Rapp host the next. Each episode addresses a specific topic. One priest picks and unpacks the topic, while the other provides what the sports world calls color commentary by adding interesting antidotes or thoughts.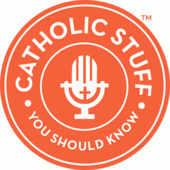 CSYSK maintains refreshing respect for the audience's intelligence. The hosts venture into territory intimidating to many Catholics without a theology degree. The priests embrace the intellectual tradition of the Church while speaking at a level any person can grasp. They do a fantastic job of using the Church's tradition to elucidate a topic's relevant nuances. Very rarely does an episode contain soundbites. Listeners hear a conversation with a depth that renews itself upon repeated listening. I still wrestle with their Anima Technica Vacua episode, and they released it in late 2015. Other great episodes include Eight Evil Thoughts, Success is Not a Name of God and Spiritual Dashboard Confessionals. This is a podcast whose content will both affect and at times even direct what you bring to prayer.
I first struggled to explain why CSYSK works. Listening to one of their episodes, I realized it was not what the hosts talked about, but how they talked about it. These guys believe. Earnestly. Their desire to know Jesus and to lead others to Him permeates every conversation. Certain Catholic content on the internet comes across as a thin veil of holiness over a sales pitch. Not these guys. They are witnesses: witnesses to the power of the loving God, witness to what He has done in their life, and witnesses to why these topics matter.
CSKYS hidden treasure lies within the relationship amongst the four priests. They are members of the Companions of Christ, a "private association of diocesan
clerics whose members seek to live obedience, chastity, and poverty as they reside and minister in their diocese." Listeners hear a conversation between two brothers with an obvious love for each other, convinced of the necessity of their discussion.
If you are a fan of Catholic podcasts about religious topics, subscribe to this immediately. CSYSK available on iTunes, Google Play, and Sound Cloud.
Twitter Follow of the Month:
@SteveMissionary, better known as Steve the Missionary. Steve produces a fun and insightful YouTube channel. Plus, his text messages kept me from losing my mind as the US blew their chance to make the 2018 World Cup last month. It's safe to assume I owe him this shoutout.