Supporting Teen Mothers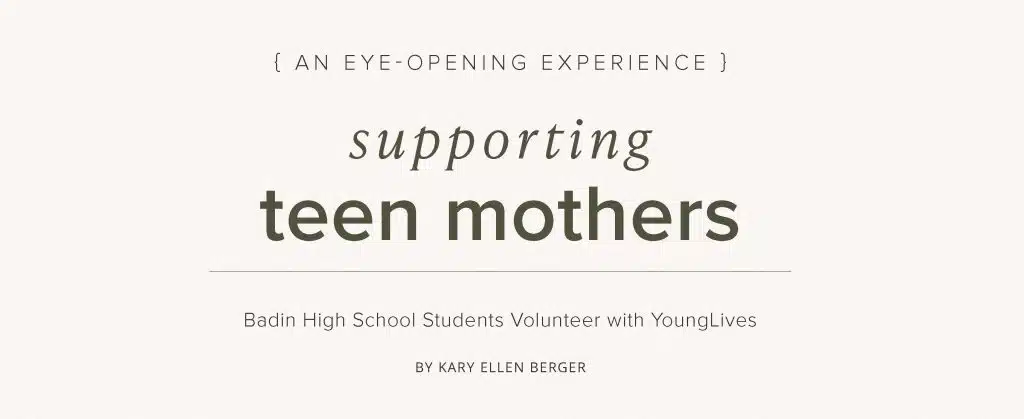 "I became involved in YoungLives because I have always loved interacting with young kids," said Badin senior Annie Nguyen. "I also realized that I didn't have a lot of knowledge on teen pregnancy or the hardships of it and thought that volunteering at YoungLives would be a good way to become more aware."
"My constant hope is that our students have the opportunity to see outside of themselves, to understand that not everyone's story looks like theirs, to realize how connected we all are in our humanity despite our different circumstances," said Badin's Director of Christian Service, Megan Halverson. "YoungLives gives our students the opportunity to connect with people their age who have very different stories, and the young women at YoungLives are given the chance to feel supported by someone their age who they might not expect to be in their corner. It creates a beautiful connection that opens hearts and minds to others."
The program offers regular fun gatherings for young mothers to provide inspiration and encouragement, and it hosts activities such as Bible studies, group outings and life skills lessons. Badin students developed additional events, including a wellness night, Christmas parties, a graduation for teen moms and a summer celebration.
"For the summer party, we brought bounce houses for the kids [and] ice cream and gift baskets for each mom," said Badin senior Grace Lees. "Volunteering with YoungLives has brought my life so much joy, and I am so grateful for the relationships I have been able to build with the kids," she said.
The Badin students' find their involvement with the program is much more than an opportunity to fulfill service commitments. They are dedicated to not only transforming the young mothers' lives, but also fostering a sense of unity, understanding and compassion.
"Our students are inspired to give back to YoungLives because it has given something to them, changing the way they look at the world and at their community, making all of us a bit better," said Halverson.
"YoungLives has made me realize how thankful I should be for my life and parents and how blessed I truly am," said Nguyen.
"As a Catholic school, Badin is committed to teaching our students that Catholic Social Teaching is not just something we read about in a book, but it is something to live by—serving with an agency like YoungLives, or any of our partnering nonprofits, is just the beginning of that," said Halverson. "We are so grateful to YoungLives and all of our partners for opening their doors to our students so that they might have opportunities like this to live out their faith and connect with their community."
This article appeared in the October 2023 edition of The Catholic Telegraph Magazine. For your complimentary subscription, click here.