Supreme Court upholds use of controversial lethal injection drug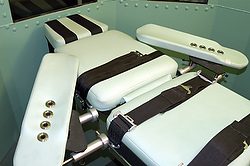 CNA/EWTN News
The Supreme Court has ruled in favor of the continued use of a drug that has been accused of causing excruciating pain in several controversial state executions.
The 5-4 ruling in Glossip v. Gross was announced June 29.
Lawyers for three death-row inmates in Oklahoma had argued before the court that the state's three-drug protocol for executions violated constitutional bans on cruel and unusual punishment.
The execution protocol includes the sedative midazolam. The drug's effectiveness was recently called into question when it was used in several unusually prolonged executions in Ohio, Arizona and Oklahoma in which inmates appeared to suffer significantly during their deaths.
In the 2014 execution of Oklahoma inmate Clayton Lockett, the sedated man's body writhed and he breathed heavily for more than 40 minutes until he died of a heart attack.
Oklahoma officials had argued that the protocol was consistent with the Supreme Court's previous lethal injection ruling. I