Catholic At Home: Surrender it All


Leave the care of your affairs to Me and everything will be peaceful. In my 13 years as a wife and 12 as a mother, there have been plenty of times when I've simply run out of answers. Every family carries unique burdens that can overwhelm and exhaust us emotionally, and my husband and I have faced a robust mix of daily obstacles and larger-than-life problems that proved nearly insurmountable or, at the very least, challenging.
Like many faithful, I fall into the classic pattern of neglecting prayer when life is going well, but shift into high-gear supplication when I'm in dire straits. Preoccupied with my problems, my worry yields pleas for God to fix my circumstances the way I hope they'll be fixed. I have a solution in mind, but unable to actualize it myself, so I turn to divine providence to perform a miracle.
This approach is less than ideal for spiritual sanity. When I pray steadily and consistently, I'm much more assured of the mercy and love of Jesus, Who is Lord over every circumstance – calm, crisis and everything in between. It's this reality that I experienced in praying the Surrender Novena.
I heard about the Surrender Novena about a year before praying it the first time. The daily readings present Jesus' own words as revealed to Servant of God Father Don Dolindo Ruotolo. Father Ruotolo received the stigmata and also served as spiritual director to St. Padre Pio. When speaking of his spiritual director, St. Pio said "the whole of paradise is within him." Father Ruotolo was an exorcist and mystic whose intimacy with the Lord allowed him to perform miraculous healings. Even after his passing in 1970, his intercession remains powerful in cases of spiritual warfare and physical ailments.
I took up the prayer when I was overcome with uncertainty. My husband and I were approaching our first marriage therapy appointment and I was apprehensive about it. Like so many couples, our marriage is good, but not without burdens and pain. It was this intention I brought before Jesus.
"Why do you confuse yourself by worrying?" I read on Day 1. "I say to you in truth that every act of true, blind, complete surrender…resolves all difficult situations." Each day carried the same message – that offering God my concerns, the need for control and my overwhelming feelings will make way for a peace the world cannot give. Such reassurance was exactly what I needed, and every time I went to pray, I felt relief knowing Jesus would handle my concerns. The whole novena became a meditative invitation to entrust every degree of worry to Christ with the confidence that He has "plans for welfare, not for woe" (Jer. 29:11).
I prayed the Surrender Novena each night before going to sleep, and quickly realized putting my mind to rest helped put my body to rest as well. Though initially faced with anxieties, I rested, understanding that God saw the whole of my marriage – past, present and future – and that He holds it entirely in His hands. Our first counseling appointment concluded peaceably.
For those of us who are sure we need to handle our problems ourselves, the Surrender Novena speaks peace to souls weary from self-sufficiency. Indeed, the Lord speaks to this specifically on Day 6: "Satan tries…to agitate you and to remove you from My protection and to throw you into the jaws of human initiative. So, trust only in Me, rest in Me…"
Though my experience is my own, several people have shared that the Surrender Novena fortified their trust in God's providence and released them from anxiety. What weighs on your mind? Surrender your marriage, your children and your heart to Jesus.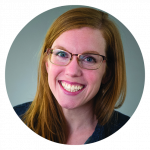 Katie Sciba is a national speaker and Catholic Press Award- winning columnist. Katie and her husband, Andrew, have been married for 13 years and are blessed with six children.
This article appeared in the July 2021 edition of The Catholic Telegraph Magazine. For your complimentary subscription, click here.