Taking First Faith Steps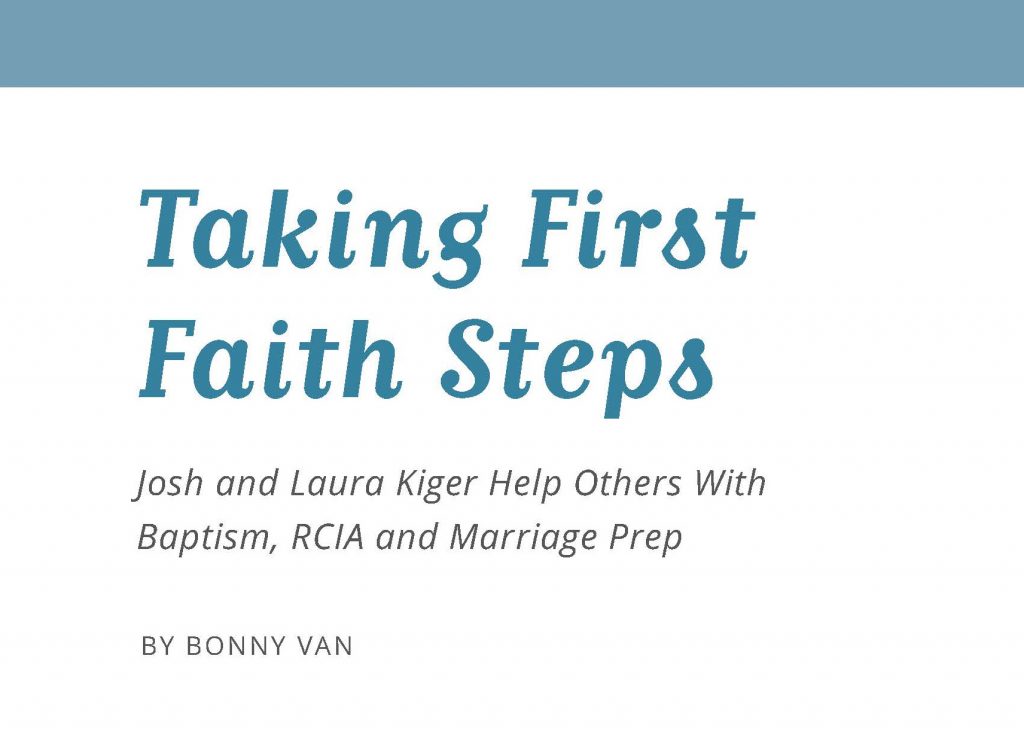 When it comes to sharing and teaching the Catholic faith, two minds are better than one and, in this case, two hearts are better than one. That's because Josh and Laura Kiger have a true love for sharing their faith as they help others prepare for their own life-long Catholic journeys through baptism, Rite of Christian Initiation of Adults (RCIA) and Pre-Cana.
"Our involvement in ministry started with Josh going through the RCIA journey and becoming Catholic," said Laura, a cradle Catholic who grew up attending Catholic schools. "After Josh was fully initiated, we joined the RCIA Team [in 2016]. Shortly after we were married, we were invited to join the Pre-Cana ministry, and then we were approached about baptism prep." According to Laura, the invitation was key to the couple's involvement in all of their ministries.
"Invitation is key to evangelization, parish life and ministry," she said. "I'm not sure if I ever would have been brave enough to ask to join Pre-Cana ministry, but I was so happy to accept the invitation. Same for baptism prep. We never would have thought to seek it out, but we were so excited to get involved when someone reached out to us."
"I think we were approached because of our age and how critical it is for some young families to see people in their own generation on fire with faith and giving back to the Church," said Josh. "So many young people are choosing a different path these days for themselves and their children and it's on all of us to meet them where they are and invite them to, or back to, Christ."
The Kigers will celebrate their fifth wedding anniversary in November and they have been involved in these ministries and others at Immaculate Heart of Mary Church (IHM) in Anderson Township for nearly as long. Now, Josh also serves as an extraordinary minister of Holy Communion while Laura participates in Bible study and IHM's Women's Wednesday group. And if that weren't enough to fill their schedules, the couple has two children, Jude, 3, and Lily, eight months.
The couple rotates the once-a-month baptism classes with another couple while Pre-Cana is only two weekends per year.
"RCIA is the hardest to make time for now with children," Josh said. "Once we had children, Laura has participated less actively in RCIA, public speaking being more my thing, but she still helps me through my planning for presentations."
Nearby family support also helps the couple manage their time. "We were able to attend the Vigil this year and that was really, really lovely," said Josh. "We're all called to evangelize and to give back and to build up Christ's Church on earth, and these ministries are one of the ways we get to do that."
This article appeared in the July 2021 Edition of The Catholic Telegraph Magazine. For your complimentary subscription, click here.