The Final Word: St. Michael School Saved my Life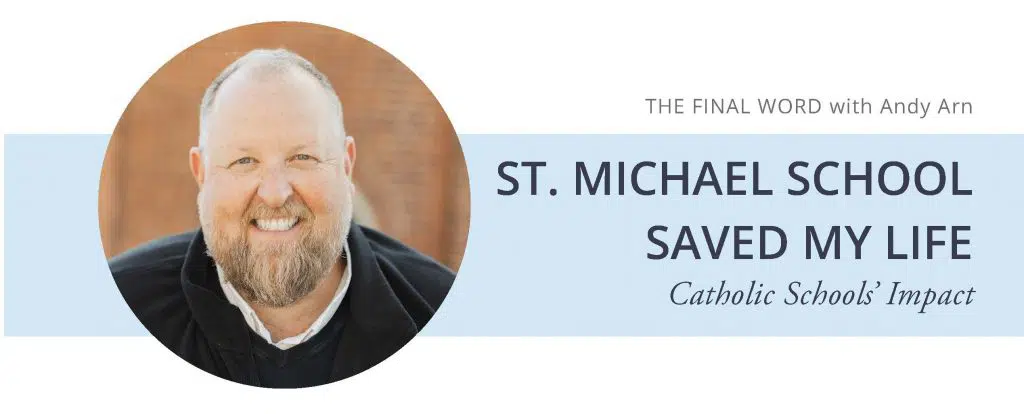 Like many, when I graduated from Georgetown High School in 1994 I never imagined my life would turn out the way it has. Headed to Ohio State University, my future was full of possibilities. Unfortunately, faith was not on the top of that list, my interests then being primarily material. While my definition of success was not necessarily becoming rich, without question, potential salary was the driving force in choosing a major.
During the undergraduate years, nothing seemed to fit, and I changed majors several times. I tried to figure out what I wanted to do, not considering what I was called to do. Eventually graduating, teaching was still not on the radar, let alone teaching in a Catholic School. But God had other plans.
I needed a job, and one just happened to be open at the only Catholic school within 30 miles of my hometown. It was a very small school, I didn't even know it existed despite being raised Catholic in the next town, but I thought that a year there would give more time to consider what I wanted to do with my life.
That first year teaching at St. Michael School changed my outlook and my life. I would like to believe that I had a major positive impact on my first students, but in reality they influenced me much more. Although a cradle and practicing Catholic my entire life, I admit it wasn't until I began teaching in a Catholic school that my faith became my priority.
Starting every day with prayer, studying scripture regularly and attending Mass as a school family affected me greatly. However, I changed the most after realizing the impact I could have as a teacher on my students. More important than learning their ABCs and 123s, I'd help them recognize Jesus' importance in their lives. I raised the level of expectation for myself and completely reorganized my life's priorities.
When I became a father, I wanted my children to grow up in this faith-filled environment. Opportunities came for advancing my career according to my former standards, but, although it wasn't easy, I knew what I had to do.
A Catholic educator for 20 years, I'm in my sixth year as a principal where my love for Catholic schools began. There were, and continue to be, plenty of struggles, but I have seen our Catholic schools benefit not only children, but also teachers, parents and members of our community. I witnessed our school bring people to Christ who otherwise would have no knowledge of Him or any faith. I witnessed many students and families join the Church, with St. Michael School as a "bridge" to their new faith. I saw our students move to the local public schools and become leaders, taking with them the faith background they received at St. Michael School. I have also been around long enough to see many of my former students with their own families, thriving in our community, practicing their faith, and enrolling their children at St. Michael School because they recognize the important role it played in their own childhood.
This is just my story. These events are happening every day in Catholic schools. I truly believe that St. Michael School saved my life. I am so thankful for the opportunities that my children, my community and I have had because St. Michael School is in our lives. The impact of Catholic Schools goes so far beyond providing an education – Catholic schools change souls.
Andy Arn has been St. Michael School's principal in Ripley, OH, since 2016, and is the Varsity Girls Basketball Coach at St. Patrick High School, where he previously taught, in Maysville, KY. He lives in Ripley with his wife, Ashton, and their five daughters.
This article appeared in the January 2022 edition of The Catholic Telegraph Magazine. For your complimentary subscription, click here.