The Final Word with LaVerne Summerlin: Missionaries of the West End.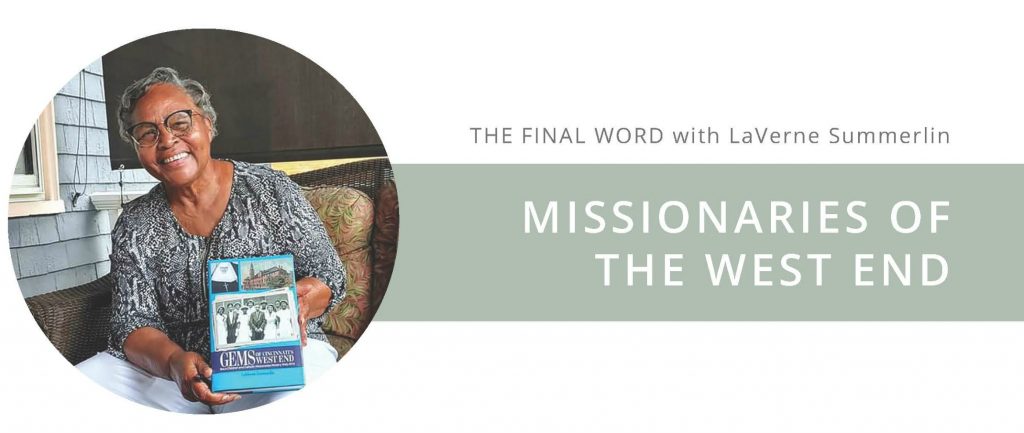 Holy Trinity Church and School (now the 5th Street I-75 South Exit ramp) was my parish, my place of solace. Why?  Because of the missionary zeal of St. Katharine Drexel's Sisters of the Blessed Sacrament; St. Daniel Comboni's Missionaries; our parents and the seemingly ever present ethnically-diverse lay evangelists who contributed to the vibrancy of the parish.
Some historians reference 1925-1950 as the Archbishop John T. McNicholas Negro Apostolate, and 1950-1970 as the Karl J. Alter Urban Apostolate. Why? Because it was under their aegis that the archdiocese expanded its African American ministries.
Adults from various ethnicities saw us as God's children. They told us that, despite what others thought, we were capable  of academic and moral excellence. They let us know – in no uncertain terms – that they believed the Catholic Church had a moral obligation to help Black parents realize their dream of securing a quality education for their children. They proved their belief by establishing standards of excellence in worship, academics, sports and in all other aspects of parish life.
The ambiance of Holy Trinity was also, to some degree, the ambiance of the other eight West End Catholic institutions at that time: St. Edward/St. Ann, St. Anthony, St. Henry, St. Augustine grade schools, and Madonna, DePorres and Our Lady of Mercy high schools. St. Joseph is the only remaining. The Sisters of St. Francis Oldenberg have been replaced with outstanding lay educators. Those rays in our diversity rainbow were instruments of peace who instilled in us the desire and will to follow their lead. Many who were children during that era have also been instruments of peace and lights to others. Hundreds of those African Americans have contributed to the Archdiocese of Cincinnati's work in the mission fields, but I can only name a few.
Father Clarence Joseph Rivers, PhD, priest, artist, liturgist had a vision that resulted in the inculturation of African American worship styles in Catholic worship. The Lead Me Guide Me Hymnal is dedicated to him, and now resides in Catholic churches across the country. He made it possible for choir members to share their gifts by joyfully praising God with such hymns as, "God Is" and "Holy God, We Praise His Name."
Second are hundreds of behind the scenes stewards. Two who come mind are Ruth Smith, who was inducted into the Senior Citizens Hall of Fame for her work as the priests' housekeeper and as unofficial counselor to the young and the elderly; and Linda Knight, who worked with the elderly and shut-ins, and is still actively working with the St. Vincent de Paul Society at St. Joseph.
Third are the educators such as Myron Kilgore, who taught at DePorres, in Cincinnati Public Schools and Xavier High School; and Linda Bates Parker who became Vice President at the University of Cincinnati and founded Black Career Women, Inc.
Fourth are Charles Chambers, Raymond Payne and Arthur Lindsay who served as business managers of their parishes.
Fifth are the men of DePorres High School who have continued the school's legacy of achievement in all areas of society.
The original archdiocesan missionaries who voluntarily worked with Black folks helped our parents realize their dreams of a better life for us. Like the missionaries of their youth, those interviewed for my book, Gems of Cincinnati's West End, have lived their lives as instruments of peace and children of the light.
LAVERNE SUMMERLIN is Professor of English at the University of Cincinnati where she has received a number of awards, including the Dolly Cohen Award for Teaching Excellence. An alumna of Holy Trinity Grade School and Our Lady of Mercy High School, she is indebted to all those West End Catholic Missionaries who dedicated their lives to our achievement of social justice.
This article appeared in the November edition of The Catholic Telegraph Magazine. For your complimentary subscription, click here.