The First Five Years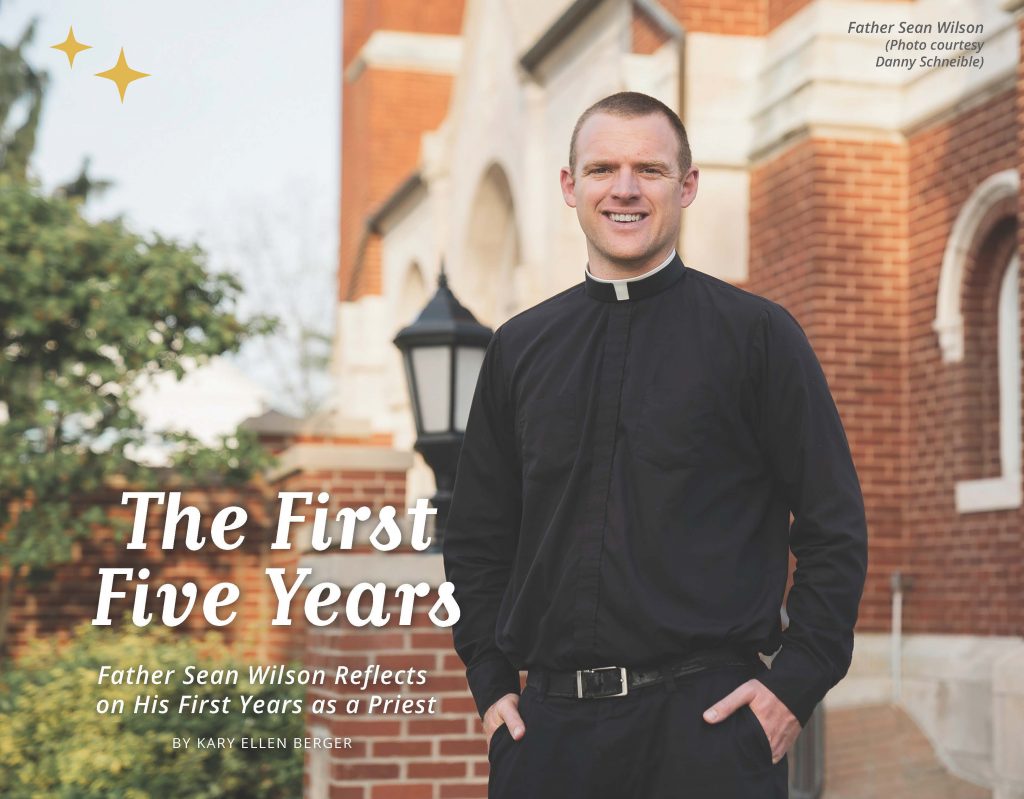 Several verses in the Bible allude to whatever you ask in prayer, you will receive, if you have faith. For Father Sean Wilson, his dedication to prayer and faith led to his priestly ordination five years ago.
Father Wilson noted that becoming a priest started as an idea, slowly becoming a reality over time. "I knew in high school [that I might want to be a priest] and I gradually began to take my faith more seriously," Father Wilson said. "I got interested in the Church and what our Lord has continued to do."
Father Wilson grew up in Vandalia and attended Emmanuel Catholic Church in Dayton. During his senior year at Butler High School, Father Wilson took a step that drew him closer to his faith. "For Lent that year, I began praying the Rosary every day as a Lenten practice," he said. "After Easter came, I kept praying the Rosary every day. That came with me to college and I think Mary kept working on me."
After graduating high school, Father Wilson attended the University of Dayton for a year before switching to Bishop Simon Brute College Seminary where he graduated in 2011. His next stop was Mount St. Mary's Seminary & School of Theology in Cincinnati. He was ordained to the priesthood in 2016.
Father Wilson's first assignment was parochial vicar to the Petersburg Pastoral Region, which includes the parishes of Immaculate Conception, Botkins; St. John, Fryburg; St. Lawrence, Rhine; and St. Joseph, Wapakoneta. In 2018, he was named the pastor of the region.
"It made the transition rather smooth," Father Wilson said. "Knowing everyone, too, was wonderful."
And now, five years into the priesthood, Father Wilson said he couldn't imagine being part of any other calling.
"There is a sense of it being five years; it seems rather natural," Father Wilson said. "It seems part of your life, being a priest, that it's hard to remember a time when it wasn't the case. However, there are new things every single day – whether it's things with the people, or the administration or sacramental questions or whatever it may be, it is amazing to see how much happens every single day and it's a great sign of what the Lord continues to do."
While Father Wilson said being a priest is his favorite activity, but he also enjoys being outdoors and kayaking on local lakes. He also loves spending time with his family – along with his parents he has two brothers, both married, as well as a niece and nephew.
"I got to baptize both my niece and nephew," Father Wilson said. "That has been a highlight of my priesthood."
Father Wilson shared some advice for those aspiring to be priests. "It's all the Lord's work. There are tough days. There are beautiful days, but in all of them, we simply get to be His servant. And that's enough. The Lord does a whole lot that's really visible, whether it's having a difficult conversation or preparing a Sunday homily, it's really all His, and so the better we come to know Him and love Him, the better we can imitate the Good Shepherd."
This article appeared in the July 2021 edition of The Catholic Telegraph Magazine. For your complimentary subscription, click here.