The Great Call of Apostleship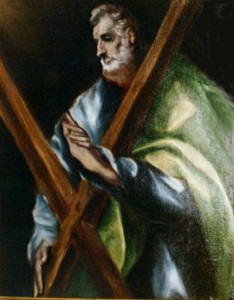 In the synoptic Gospels, Andrew is a Galilean fisherman grouped with his brother, Peter, and with James and John in the inner circle of Apostles; in John's Gospel, he is the disciple of John the Baptist who is the first to follow Jesus and who brings his brother to the Lord. Many traditions about Andrew come from the apocryphal second-century Acts of Andrew, which depicts him as a zealous missionary in the Black Sea region who is crucified—tied to an x-shaped cross—by the Roman governor. Some early church historians also said he evangelized in Greece and Asia Minor. He is the patron saint of Scotland, Russia, Greece, and those who fish for a living.
In his last words to the apostles, the Lord Jesus Christ gave them a mission: "Go, therefore, and make disciples of all nations, baptizing them in the name of the Father, and of the Son, and of the Holy Spirit, teaching them to observe all that I have commanded you" (Mt 28:19-20).
"Jesus Christ—the Word made flesh and Son of the Father—has an absolutely unique role in the salvation of the world. Similarly, the [Catholic] Church . . . uniquely contains the means of continuing Christ's saving mission" (Bishop Joseph Fiorenza, Statement on Dominus Iesus, 2000).
Christ's instruction to the apostles was a great call to those who became the first bishops and the first missionaries of the Church. They were told to go ad gentes—that is, "to the nations," to those who did not know Christ—and to proclaim the Gospel. Because the apostles were faithful and obedient to Christ's command, his Church has grown and flourished.
The responsibility for fulfilling that mandate passes on unchanged to the bishops and to all the Catholics of today. The word "catholic"—that is, "universal"—embodies God's purpose for his Church. He wants to extend it to the farthest corners of the earth. He wants to show all people his love and mercy.
Missions are those "particular undertakings by which the heralds of the Gospel, sent out by the Church and going forth into the whole world, carry out the task of preaching the Gospel and planting the Church among peoples or groups who do not yet believe in Christ. . . . The proper purpose of this missionary activity is evangelization" (Ad Gentes, no. 6).
However, this mission is far from complete. There are many young churches that need missionaries to develop and grow. There are many dioceses, eparchies, and countries struggling with poverty, persecution, oppression, war, and immense suffering that need missionaries to witness to the light and love of Christ, bringing hope for the future.
The Church can never "withdraw from her permanent mission of bringing the Gospel to the multitudes—the millions and millions of men and women—who as yet do not know Christ the Redeemer of humanity" (On the Permanent Validity of the Church's Missionary Mandate [Redemptoris Missio], no. 31, original italics). Therefore, all Catholics, by reason of their incorporation into the Church at Baptism, should fully participate and cooperate in Christ's ongoing mission "to the nations."
We, the Catholic bishops of the United States, commit ourselves anew to supporting the world mission effort, and we ask all Catholics to join us in this venture.
The Great Call of Apostleship was a statement released by the United States Catholic Conference of Bishops in June 2005. For the entire statement, click on http://www.usccb.org/beliefs-and-teachings/what-we-believe/teaching-the-spirit-of-mission-ad-gentes-continuing-pentecost-today.cfm