The Light is ON for You is Tuesday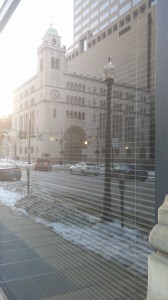 Staff Report

As we journey into Lent, we are a week away from the Archdiocese of Cincinnati's The Light is ON for you. This is a wonderful night to take advantage of the Sacrament of Penance and spend some time with the Lord in quiet prayer.
Perhaps in preparation for this event and this Lent, to take some time reflecting on the direction of your life. Do I feel close to God? How can I get closer? What are those obstacles in my life keeping me from the Lord? What are those gifts God has given me? Can I harvest those gifts better? How can I be the best version of myself?

Sometimes going to confession can give a sense of embarrassment or even anxiety. Yet by receiving this Sacrament it can alleviate that anxiety. Think of it in a way you take your car into the shop. First you have to identify the problem, then you get the parts to fix it, and finally you can drive on.

If you haven't been to confession for years, perhaps you can take this moment and immerse yourself in the Lord's love and mercy. Every parish in the Archdiocese of Cincinnati will be open for quiet prayer and Confession on Tuesday, March 3rd from 7:00 p.m. until 9:00 p.m.. Make a date with the Lord next Tuesday night for the Archdiocesan The Light is ON for you!
A special website, www.LightIsON4u.org contains resources for the returning penitent as well as for pastors and staff preparing for March 3.

"The Light is On for You" is being presented by the Office of the New Evangelization and the Worship Office. Funding comes from the Catholic Ministries Appeal.
For more information, please contact Sean Ater, director of the Office of the New Evangelization, at 513-421-3131, ext. 2733.
Posted February 25,2015