Throwback Thursday: Archdiocese's first cathedral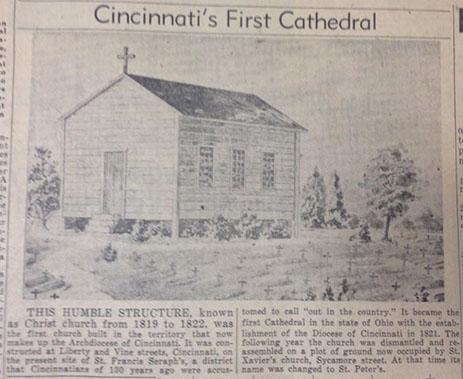 Staff Report 
The word cathedral conjures up images of giant gothic masterpieces that stretch upwards toward the heavens in majesty as an architectural tribute to God. While many cathedrals, including Cincinnati's Cathedral of St. Peter in Chains, are modern marvels there's no requirement that they be particularly large or ornate.
Today's Throwback Thursday shows a photo of "Christ Church," the humble building that served as the first cathedral for the Diocese of Cincinnati. A cathedral is a church that contains the seat of a bishop, thus serving as the central church of a diocese.
The building pictured in this selection, from the Feb. 24, 1950 edition of The Catholic Telegraph-Register, was built in 1819 and was in fact the first Catholic church built in the territory. Its location was at Liberty and Vine, the present site of St. Francis Seraph Church but at the time the location was considered "out in the country" from downtown.
When Cincinnati became a diocese in 1821, Christ Church became the cathedral for Bishop Edward Fenwick, O.P.
In 1822 the building was taken down and reassembled on a plot of ground where St. Xavier church now stands on Sycamore Street downtown. At that location the name became St. Peter's. St. Peter's was dedicated by 1826. The present Cathedral of St. Peter in Chains structure at 8th and Plum became the official cathedral in the 1840s and remained so until 1938.
From 1938 to late 1957 St. Monica's in Clifton Heights served as cathedral. The bishop's seat was restored to St. Peter in Chains on Nov. 3, 1957 by Archbishop Karl Alter.
From the first cathedral forward, each location to hold the seat of the Cincinnati diocese's bishop remains the site of a Catholic church.
Welcome to The Catholic Telegraph's edition of Throwback Thursday. Throwback Thursday is a weekly online activity wherein users of social media share an old photo or anecdote about times gone by. We use Throwback Thursday to highlight the history of the Archdiocese of Cincinnati, and our publication.
Recent Throwback Thursdays
McDonald's Fish Sandwich origin comes from Cincinnati Catholics
Remembering Sister Dorothy Stang
Catholic Press Month
Basketball Bishop
Supporting life in every age
Posted Feb. 26