The Prayer Book for Tired Parents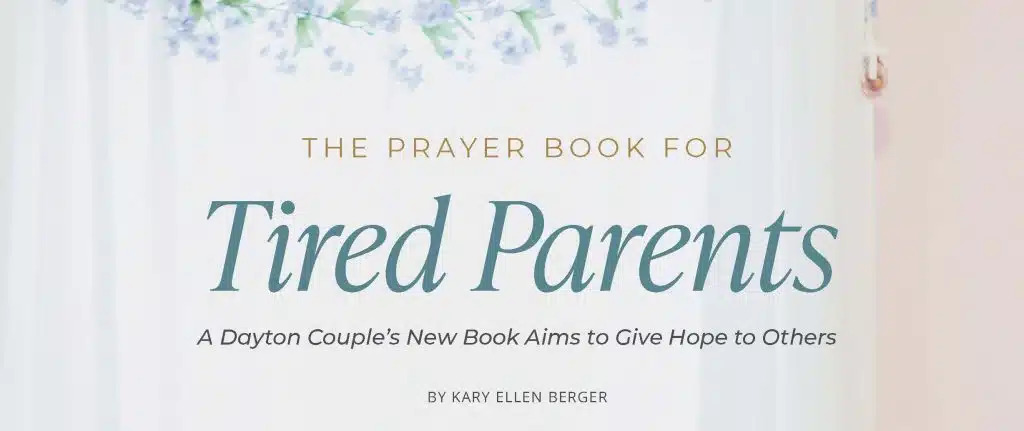 Name a parent who isn't tired. Whether parenting a newborn, teenager or even an adult, most agree that being tired is a characteristic of parenthood.
Dave and Debbie Cowden are not immune to such exhaustion. Parishioners at Dayton's Holy Family Catholic Church, they are parents to three children with another on the way. Between working (Dave in healthcare and Debbie with EWTN) and raising children, the Cowdens have hectic schedules; however, they acknowledge the importance of living out their Catholic faith and raising their children to be holy. They felt others might struggle with the same life balance, and so, pondered creating a book to help.
"Once the idea of The Prayer Book for Tired Parents got into our heads, it was hard to ignore," said Debbie. "We sat on the idea for months, but kept coming back to it. And so, we prayed, 'Jesus, if you want this book to happen, you're going to have to throw open all the doors, because we are too tired to write a book!' And when you pray that kind of prayer, you can expect Him to give you a VERY clear answer!"
The Cowdens' book isn't meant to be read and set aside; rather, it's a guide with prayers and reflections. For example, it includes a reflection on Venerable Fulton J. Sheen and a prayer in thanksgiving for coffee. The prayers can be cut out and posted around the home so parents see them every day.
"In today's age, there's no room to be halfway Catholic," said Debbie. "Our faith either means NOTHING, or it means EVERYTHING. And once we understood we couldn't be passive about our faith, we started changing our lives so that we could love God more—that's the heart of what we convey in the book. When you desire to truly love God more, you change your life so that everything you do is ordered toward loving Him and serving Him. And what once might have started as begrudging obedience truly turns into a joyful duty. We were made for holiness!"
No matter what parenting stage someone is in, the Cowdens hope this book inspires and gives others hope, particularly those who try to do it all and feel they aren't succeeding.
"Society has us busying ourselves and our kids, and it's pulling us away from each other, to our detriment," said Debbie. "Kids feel the pressure to excel in academics, athletics and other extracurriculars, but what are we doing to encourage them to excel spiritually? Trophies and degrees matter far less than whether our kids become saints."
"While still striving to share this gently, we hoped to also offer a resource for [us] parents to truly evaluate our hearts," continued Debbie. "We sometimes say that faith or family is important to us, but our actions might SHOW a completely different reality. In The Prayer Book for Tired Parents, we discuss our own struggle with this (Debbie is a cradle Catholic and Dave is a convert). We want parents to pray and reflect on whether what they are doing matches up with who they claim to be. And if you're reading this and recognizing that, to this point, you haven't given God the honor, love and attention He deserves, don't despair! You can choose right now to change that! And we are here to help."
The Prayer Book for Tired Parents is available at ewtnRC.com or sophiainstitute.com. Use code CINCY30 at either website for a 30% discount. Pastors, school principals, DREs or parish program coordinators who wish to order 25 or more copies can email the Cowdens at [email protected] for a larger discount.
This article appeared in the June 2023 edition of The Catholic Telegraph Magazine. For your complimentary subscription, click here.