The Way of the Cross and Public Witness


It has been nearly 20 years since my priestly ordination. My last year of seminary was marked by the horrific acts of violence and terror on 9/11 – the vivid image of the Cross at Ground Zero is unforgettable. I remember reading a newspaper article about lay Catholics walking and praying a Via Crucis (The Way of the Cross) across the Brooklyn Bridge, stopping at Ground Zero. Pope John Paul II even sent a message to that group. But many years passed before I again thought about that public procession through the streets of New York with the cross.
While living in Italy, I encountered a lay ecclesial movement called "Communion and Liberation" (CL), founded by Servant of God, Msgr. Luigi Giussani. Over the years, the movement and friends I made through it became a bigger part of my life, such that even now, their weekly School of Community meetings are held at my parish.
A significant tradition in CL is The Way of the Cross, which proceeds in silence to several stations, where are read Gospel passages, reflections from Giussani, and meditations from people like Charles Peguy and Paul Claudel. Sacred music plays, including Mozart, Pergolesi, Palestrina and the Crux Fidelis chant. All of this helps facilitate meditation on the meaning of Our Lord's crucifixion and death. Amid the modern city's hustle and bustle, there is something both ancient and new, something beautiful that provokes questions: Who are these people? What are they doing?
Who are these people? I suppose many people asked the same about the Apostles and early disciples when they first gathered near Solomon's Portico, but curiosity occasionally leads to an encounter, opening the possibility of meeting Christ. So, these people are disciples of Christ, unashamed of His Cross.
The lay faithful disciples are a sign provoking the other question: What are they doing? The Way of the Cross is a public witness done in the streets of the community; these days, many people want faith to be purely private. It is true that faith is often personal and intimate, but as disciples we also give public witness to our faith. The public witness of carrying the cross through the city streets proclaims the truth of Christ's death and resurrection; namely, that it is not a private matter of conscience, but the definitive event of history. It is also a missionary gesture, which offers hope for salvation and attracts others.
Two years ago, due to the pandemic, the Via Crucis was done virtually, but last year on Good Friday, through Father Ethan Moore's hospitality, we publicly processed with the cross, from St. Monica-St. George Church around the University of Cincinnati campus. We hope to do the same this year, inviting others to join us in witnessing to the event of Christ's saving Passion and Resurrection.
The Walking of the Steps at Holy Cross-Immaculata Church in Cincinnati also gives this type of public witness. It is one of the greatest signs of Catholicism's impact on Cincinnati's culture and city and a long-standing tradition that families share. It is also a means to attract people who do not regularly come to church or confess their sins, prompting them to reflect before God on their faith journey and inviting them to a deeper conversion to Christ.
As fewer people come to church, there is a greater need for bringing the Gospel to the streets through concrete gestures that attract and that announce the central message of the faith: in Christ Jesus, God draws near to His people in order to save them through His Death and Resurrection! Pope Francis exhorts us to be a Church that goes forth. Perhaps, it is time that we get beyond the walls of our offices and churches and be living witnesses in our neighborhoods and city streets for the God who saves us.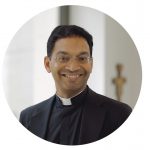 Father Earl K. Fernandes is the pastor of St. Ignatius of Loyola Church in Cincinnati and holds a doctorate in moral theology from the Alphonsian Academy in Rome.
This article appeared in the April 2022 edition of The Catholic Telegraph Magazine. For your complimentary subscription, click here.