Third annual Ultimate Frisbee Tour for vocations coming soon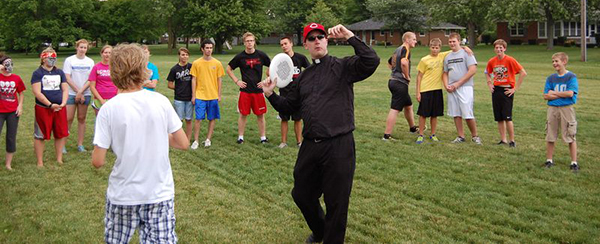 Press Release
For the third consecutive year, the seminarians of the Archdiocese of Cincinnati are traveling the Archdiocese looking for a little friendly competition on the Ultimate Frisbee field. Last summer they competed against nearly 120 teens and young adults in their three-stop tour. They look to do the same again this year as they use Ultimate Frisbee, a cookout, and prayer to meet and talk to teens and young adults about life and discerning God's will.
The first stop on this year's tour will be Heritage Village in Versailles on Wednesday, July 24, from 6 to 9 p.m. The second stop will be three days later, Saturday, July 27, from 10 a.m. to 1 p.m., at Wright State University in Dayton, and the final stop will be on Sunday, August 3, from 10 am to 1 p.m., at the home of the seminarians, Mount St. Mary's Seminary of the West in Cincinnati. Each stop will start off with introductions and picking teams before kicking things off on the field of play. As the competition draws to a close the group will come together for a cookout, camaraderie and prayer.
This tour is all about having fun with men and women of any age who want to come out and play some high-energy Frisbee. Those who don't feel up to the physical challenge are encouraged to come and watch, too. Anybody interested in coming is asked to register by contacting your local youth minister, or calling Wayne Topp at 513-421-3131 x. 2891 so that enough food can be provided for everyone.
The Roman Catholic Archdiocese of Cincinnati is the 38th largest Catholic diocese in the country, with almost 500,000 Catholics, and has the seventh largest network of Catholic schools in terms of enrollment.  The 19-county territory includes 214 parishes and 113 Catholic primary and secondary schools.