Throwback Thursday: A retrospective on the life of Archbishop McNicholas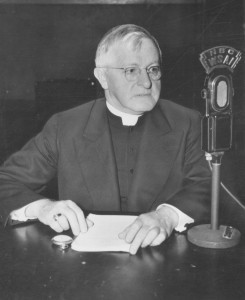 For twenty five years, from 1925 until his death in 1950, John T. McNicholas served as the Archbishop of the Archdiocese of Cincinnati. Born in Kiltimagh, County Mayo, Ireland, December 15, 1877, McNicholas immigrated to the United States at a young age, settling with his family in Chester, Pennsylvania. He was ordained as a Roman Catholic priest in 1901 and served in a variety of positions and locales, including Rome, before receiving his appointment to serve in Cincinnati.
McNicholas quietly built up a reputation in local and national circles as an effective spokesman of his faith. In 1928 anti-Catholic tensions, which had been high in the postwar decade, continued to worsen after New York Governor Al Smith became the first Roman Catholic to capture the Presidential nomination of the Democratic Party. McNicholas worked with Protestant and Jewish leaders to promote tolerance among the major faith traditions. McNicholas also made a name for himself when he partnered with WLW owner Powell Crosley, making use of the latter's shortwave transmitters to broadcast sermons and religious texts to audiences in Latin America.
For the entire story, click here
Welcome to Throwback Thursday, an online feature wherein users of social media share an old photo or anecdote about times gone by. The Catholic Telegraph partners with the Archdiocese of Cincinnati Chancery Archives' blog Laboring on the Mission to bring you a bit of local history each week.