Archbishop Emeritus celebrates 40 years as a bishop

Staff Report
This Throwback Thursday post is scheduled for Dec. 18, but it looks ahead to Dec. 20.
Dec. 20 is an important date in the life of a man born in Dayton, Ohio who would go to Rome to become a priest and eventually sit in the Bishop's Chair at the Cathedral of St. Peter in Chains for more than 20 years. It became an important date as well to the archdiocese he has served throughout his life.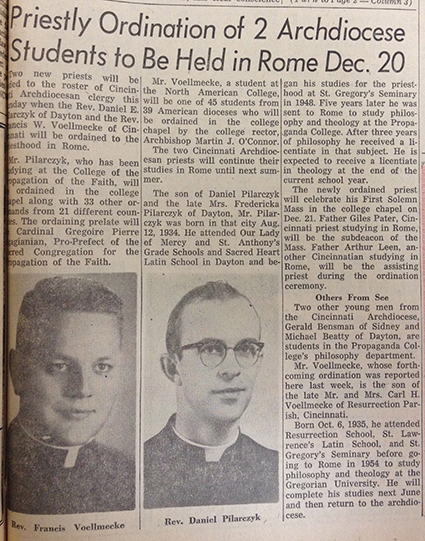 Archbishop Emeritus Daniel E. Pilarczyk was ordained to the priesthood in Rome nearly 55 years ago, on Dec. 20, 1959 by Cardinal Grégoire-Pierre Agagianian. The Dec. 18, 1959 edition of The Catholic Telegraph announced "Priestly ordination of 2 Archdiocese students to be held in Rome Dec. 20." Ordained along with then-Deacon Pilarczyk was then-Deacon Francis Voellmecke and 32 others from 21 different nations.
On another Dec. 20, this time in 1974, the then-assistant Chancellor of the Archdiocese of Cincinnati was named its Auxiliary Bishop. The Jan. 3, 1975 edition of The Catholic Telegraph contained coverage of Bishop Pilarczyk's consecration, noting that more than 1,500 faithful packed the Cathedral of St. Peter in Chains for the event.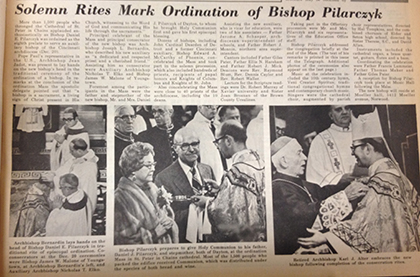 Eight years later on Dec. 20, 1982 His Excellency succeeded Archbishop Joseph Bernardin as Archbishop of Cincinnati. A Christmas Eve edition of the CT in 1982 covered his elevation. According to the article, Archbishop Pilarcyzk was just 48-years-old at the time of his elevation and the Mass was televised in Dayton and Cincinnati.
Finally, on Dec. 20, 2009 Archbishop PIlarcyzk celebrated his 50th anniversary of ordination and 35th anniversary of his episcopal consecration. His resignation was officially accepted by Pope Benedict XVI on Dec. 21, 2009 and he was succeeded by current Archbishop of Cincinnati Dennis M. Schnurr. A special section in the Dec. 18, 2009 edition of The Catholic Telegraph was dedicated to Archbishop Pilarcyzk's many years of service.
Archbishop Pilarczyk currently lives at the Little Sisters of the Poor St. Paul's Archbishop Leibold Home for the Aged in Clifton. He suffers from Parkinson's Disease but in an interview with The Catholic Telegraph in July of 2014 His Excellency said he keeps up with the happenings of the archdiocese.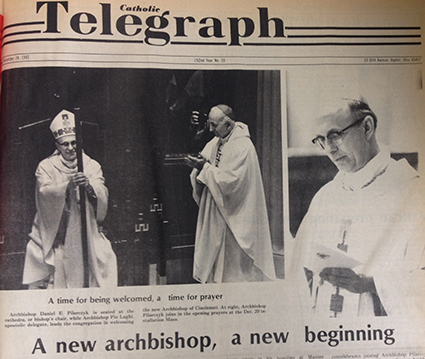 "I read The Catholic Telegraph and say, 'Oh that's interesting. Boy I'm sure glad I don't have to deal with that,'" he said in the interview. "I wish that I were more focused, more energetic. I wish that I had more time, more energy. I wish I had more to give to people.
"All I can say is I try to live day by day, try to be in touch with the Lord, and try to go on from there," he said. "I'm thankful for the people who are praying for me."
Recent Throwback Thursdays
A soldiers prayer on Christmas Day
Fenwick wins state
Thanksgiving Day Mass approved
CCHD launched under different name
Trains before planes; How archbishops arrived
Posted Dec. 18, 2014