Throwback Thursday: Archdiocese on Camera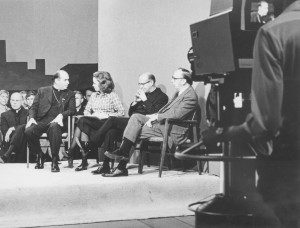 In October-November 1975, five institutions in Cincinnati were interviewed in 90 minutes specials on WCET, Channel 48. The segment on the Archdiocese of Cincinnati was aired on October 28 and included a history of the Archdiocese, a discussion among Archbishop Joseph L. Bernardin, Bishop Daniel E. Pilarczyk, and James Shea, editor of The Catholic Telegraph. Other institutions interviewed for the series were The Cincinnati Post, The University of Cincinnati, Cincinnati Milacron, and the Cincinnati Reds. Here on stage is Abp. Bernardin, Mary Jane O'Donnell, Bp. Daniel Pilarczyk, and James Shea.
Welcome to Throwback Thursday, an online feature wherein users of social media share an old photo or anecdote about times gone by. The Catholic Telegraph partners with the Archdiocese of Cincinnati Chancery Archives' blog Laboring on the Mission to bring you a bit of local history each week.