Throwback Thursday: Caroling with The Catholic Telegraph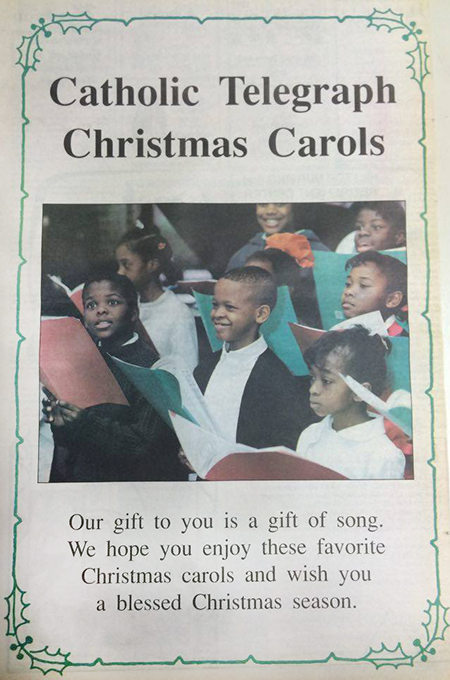 The December 24, 1993 edition of The Catholic Telegraph aimed to add a little music to the Christmas season. Included in a extra section were several pages of traditional, and some non-traditional, Christmas carols.
Such tunes as Hark the Herald Angels sing, and O Little Town of Bethlehem and more than 20 others were included.
Included on the cover of the carols section is a photo of smiling youths from St. Joseph School on Ezzard Charles in the West End. The students in the photo entertained visitors at the Main Public Library in Cincinnati the previous week with their own carols.
The choir was directed by Elizabeth Horst and the students pictured are third graders David Lewis, Nicholas Lampkin and Brenda Cooper. The photo was taken Mark Bowen.
Though we no longer print a Christmas carol edition, we invite you to check out THIS LINK from Boston's Catholic radio station, 1060AM, in 2012. It is their take on the top 10 Christmas carols of all time from a Catholic perspective.
From all of us at the CT to all of you, have a merry and blessed Christmas.
Welcome to The Catholic Telegraph's edition of Throwback Thursday. Throwback Thursday is a weekly online feature wherein users of social media share an old photo or anecdote about times gone by. We use Throwback Thursday to highlight the history of the Archdiocese of Cincinnati, and our publication.
Recent Throwback Thursdays
Happy Birthday Holy Father
Teaching children the meaning of Advent
Advent as Artwork
And now bless the God of All
So long and thanks for all the fish