Throwback Thursday: Carroll HS founded, honoring first American bishop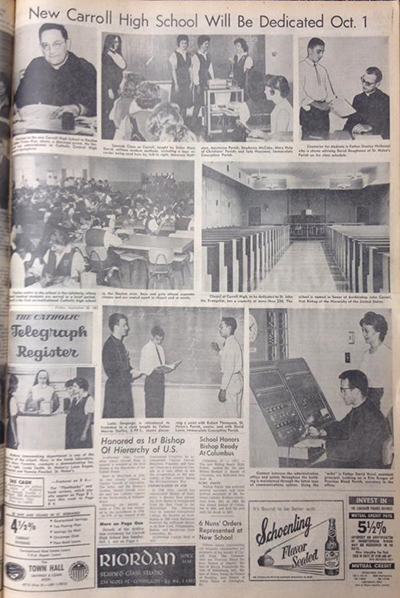 Staff Report
Carroll High School in Dayton opened its doors in August of 1961. The then-new school has been educating young men and women of faith ever since in the spirit of its namesake, Archbishop John Carroll.
This edition of Throwback Thursday highlights coverage from Carroll High School's opening in honor of today being the 225th anniversary of Pope Pius VI naming John Carroll as the first Catholic bishop in the United States.
The coverage featured here shows much of the new school, but it also included some information on the school's namesake.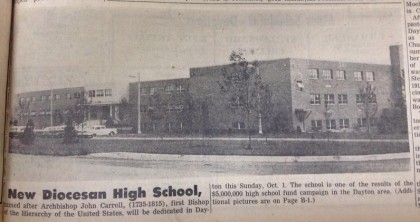 Bishop Carroll was born in Maryland in 1735 and died in 1815. Two of his relatives were the only Catholics to sign the Constitution of the United States. On Nov. 6, 1789 Carroll was named the Bishop of Baltimore, a diocese that then stretched from Maine to Georgia and from the East coast inland to the Mississippi. He later became an archbishop. A suffragan diocese of Baltimore was Bardstown, created in 1808. In 1821, territory from Bardstown became the Diocese of Cincinnati.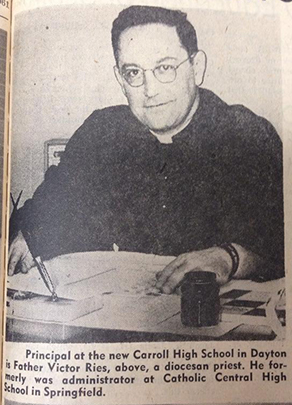 Carroll High School was dedicated Oct. 1, 1961. It's construction was the result of a $5,000,000 high school fund campaign in the Dayton area. The school's first principal was Father Victor Ries, a diocesan priest who had previously served at Catholic Central in Springfield.
Carroll High School is now co-educational, but at its opening it was the first co-institutional Catholic school in the Dayton area. Boys and girls attended the same campus, but had separate classes and sat separately at liturgies and other events.
Carroll High School then included a new "Modern Homemaking" department. At opening, 15 religious sisters representing six orders were a part of the Patriot faculty. Students still attend classes in the original building, though the school has expanded several times. Patriot Stadium was built in 1971.
The school chapel was named in honor of St. John the Evangelist, and remains under that name today though it experienced significant renovations in the 1970s and late 1990s.
People pictured on the photo spread include Father Ries, Sister Mary David, Maureeen Hoffman, Stephanie McCabe, Judy Huesman, Father Stanley Neiheisel, David Baughman, Sister Mary Veronita, Linda Smith, Lana Ragan, Pamela Paschal, Father Marvin Steffes, Robert Thompson, David Luzio, Father David Heinl and Rita Kroger.
Carroll High School's mission is to be a place "where caring educators impart instructional excellence and model Christian values." The school presently serves more than 700 students and 98 percent of its students go on to college. Learn more about Carroll High School HERE.
Welcome to The Catholic Telegraph's edition of Throwback Thursday. Throwback Thursday is a weekly online activity wherein users of social media share an old photo or anecdote about times gone by. We use Throwback Thursday to highlight the history of the Archdiocese of Cincinnati, and our publication.
Previous Throwback Thursdays
Halloween a mixture of different traditions
Four area bishops installed in 1945
Habemus John Paul II
The death of a Pope
Guardian Angels artist was spot on
Catholic prep football in the CT
Archbishop Bernadin makes the Tribune
Sept. 11, 2001
Computers all the rage in 1983
English permitted in some rituals