Throwback Thursday: Fenwick wins state in 1973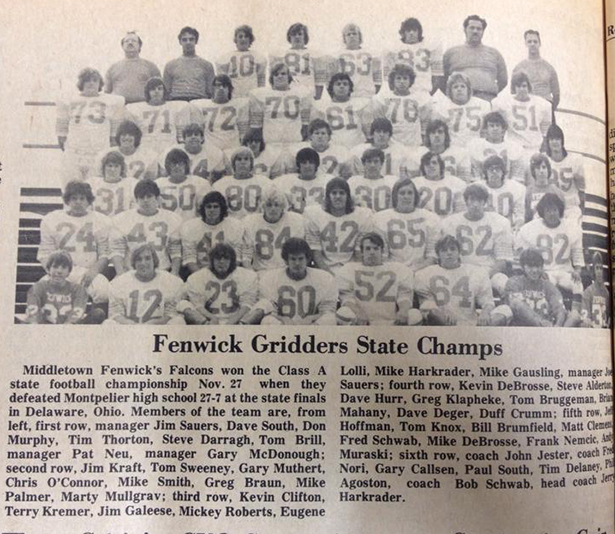 Staff Report
The Ohio High School Athletic Association began its state tournament for high school football in 1972 but the first high school from the Archdiocese of Cincinnati to win that tournament was Middletown's Bishop Fenwick in 1973.
Today's Throwback Thursday is football-related in honor of a pair of archdiocese high schools (Alter and LaSalle) who are playing in state championship games tomorrow. 
Prior to the tournament, the Associated Press typically declared state champions for high school football. In 1972 a new OHSAA state tournament created three divisional state champions to be determined via playoffs. Fenwick managed to reach the semifinal that year, but the only Catholic school to win it all that first year was Akron's St. Vincent-St. Mary.
The Dec. 7, 1973 edition of The Catholic Telegraph includes a picture (see above) of the Fenwick team that took the Class A title that year, but doesn't include much more information. For that, we turn to the OHSAA history which can be found online.
In 1973 the Falcons (11-1) dominated their way to the Class A championship, finishing with a 27-7 victory over Montpelier in a game played at Ohio Wesleyan University. Middletown's coach was Jerry Harkrader. The championship game followed a semifinal where Fenwick shutout Ashtabula St. John 16-0.
Fenwick followed up with another state championship the in 1974. In the first 10 years of the OHSAA high school football state tournament, a stretch of dominance by Moeller and the two titles by Fenwick brought eight state championships to the Archdiocese of Cincinnati.
Over the past 50-plus years multiple archdiocese high schools have claimed state football championships and tomorrow, two more play for the opportunity.
Friday morning at 10 a.m. Archbishop Alter (14-0) takes on Cleveland Benedictine (13-1) at Ohio Stadium in Columbus for the Division IV state championship. At 8 p.m., LaSalle High School (13-1) faces Macedonia Nordonia (14-0) at the same location.
The games can be heard live on OHSAA radio's website.
Welcome to The Catholic Telegraph's edition of Throwback Thursday. Throwback Thursday is a weekly online activity wherein users of social media share an old photo or anecdote about times gone by. We use Throwback Thursday to highlight the history of the Archdiocese of Cincinnati, and our publication.
Recent Throwback Thursdays
Thanksgiving Day Mass approved
CCHD launched under different name
Trains before planes; How archbishops arrived
Carroll HS founded, honoring first American bishop
Halloween a mixture of different traditions

Posted Dec. 4, 2014