Throwback Thursday: Fr. Francis Lasance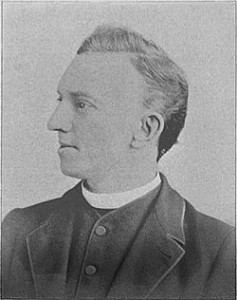 by Sarah Patterson
Fr. Francis Lasance, born in Cincinnati on January 24, 1860, was ordained a priest of the Archdiocese on May 24, 1883. In the first few years of his priesthood, he was assigned to Sts. Peter and Paul Church, Reading; Emmanuel Church, Dayton; and then briefly in Lebanon and Monroe, building the church in Monroe, which at that time was considered mission territory. Unfortunately, Fr. Lasance was plagued with poor health and had to give up parish work in 1890, only seven years after ordination. His life and ministry as a priest would end up taking an unexpected turn.
In 1890, after a trip to Europe for rest and to regain strength, Fr. Lasance was assigned to be the chaplain at Notre Dame Convent, The Summit, Cincinnati and remained there until 1924. As chaplain, Fr. Lasance had time to write, and he embraced this task with enthusiasm. Although he lived the life of a recluse, he was well-known throughout the United States and beyond thanks to his prayer books, which numbered over 30 titles. Notable ones include Catholic Boy's Guide, Catholic Girl's Guide, and My Prayer Book, which had over one million copies printed. These books were credited to leading many young persons to vocations in the religious life.
Abp. John McNicholas had this to say about Fr. Lasance in the homily given at Fr. Lasance's funeral on December 16, 1946.
"Father Lasance, through his books, taught millions how to pray; but only after having learned himself, within the religious cloister, the science and art of prayer. The strong habit and the unfailing support of his life was prayer. Long hours every day were spent in prayer. He was found daily at his bedside, kneeling in prayer; he was the most devout client of Our Lady of the Rosary. Mary's beads were his constant companion…Father Lasance, despite his austerity, his endless round of prayers, his almost constant living in the presence of God, his cheerfulness under suffering, and his seemingly heroic sacrifice to help others spiritually, was not an ethereal person; he lived in the world while not of it."
For more Read the Story Here
Welcome to Throwback Thursday, an online feature wherein users of social media share an old photo or anecdote about times gone by. The Catholic Telegraph partners with the Archdiocese of Cincinnati Chancery Archives' blog Laboring on the Mission to bring you a bit of local history each week.