Throwback Thursday: Guardian Angels artist was spot on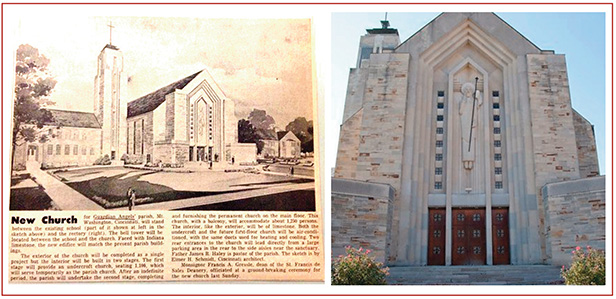 Staff Report
The artist's rendition is a key visual in the promotion of any construction project. An artist making such a piece is creating the final "sales pitch" to the public to show what a finished project might be like and one such example is today's Throwback Thursday.
Every once in a while, an artist's rendition won't resemble the finished project, but in the case of Guardian Angels parish in Mt. Washington, artist and architect Elmer H. Schmidt got it right.
Seen above left is an artist's rendition of the "new" church planned at Guardian Angels parish from the Oct. 4, 1963 edition of The Catholic Telegraph. Eight years later, the finished church would look just like it was supposed to look. The image at right was taken in 2009.
Read the full text from the 1963 clipping below.
Today, Oct. 2, is the Memorial of the Guardian Angels. When a local parish is celebrating its patron feast, the day can rank as a solemnity for the parish community. At Guardian Angels, the 7: 30 a.m. and 8:15 a.m. all-school Mass celebrated the memorial.
During the school Mass, first graders, other new students, new teachers and new staff received a Guardian Angels medal as part of a long-standing parish tradition.
Guardian Angels will also celebrate the memorial this weekend.
The Memorial of the Guardian Angels has as its Gospel reading Matthew 18:1-5 where Jesus speaks about children to the apostles saying, "See that you do not despise one of these little ones, for I say to you that their angels in heaven always look upon the face of my heavenly Father."
The feast was first celebrated in the 1500s by the Franciscan Order (with approval from Pope Leo X) and it was made a universal feast by Pope Paul V in 1608.
Text from the above clipping:

Welcome to The Catholic Telegraph's edition of Throwback Thursday. Throwback Thursday is a weekly online activity wherein users of social media share an old photo or anecdote about times gone by. We plan to use Throwback Thursday to highlight the history of the Archdiocese of Cincinnati, and our publication.
Previous Throwback Thursdays
Catholic prep football in the CT
Archbishop Bernadin makes the Tribune
Sept. 11, 2001
Computers all the rage in 1983
English permitted in some rituals
Posted Oct. 2, 2014