Throwback Thursday: Habemus John Paul II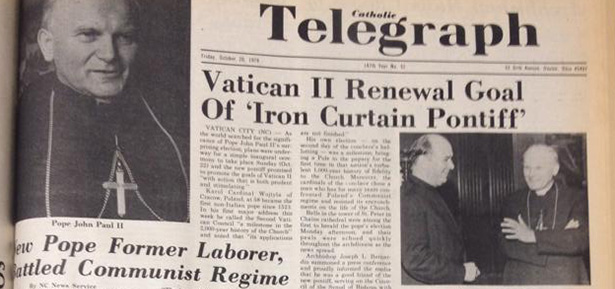 Staff Report
Though present-day secular media like to use hyperbole over every morsel of Catholic news, on this date in 1978 that the church really did experience what could be called a "seismic shift."
For the first time since 1605, it was to be a year of three popes. Pope Paul VI died in August, and John Paul I succeeded him the same month. Six weeks later, Pope John Paul I was dead, and the cardinals gathered to choose the next successor of Peter.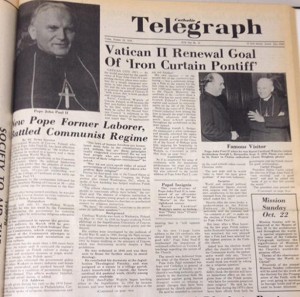 Still mourning the previous pontiff, the October 1978 conclave of cardinals sent white smoke up the Sistine Chapel Chimney at 6:18 p.m. (Rome time) on Oct. 16. The smoke signified they had elected a respected, young, Polish archbishop to the papacy.
For the first time in nearly 500 years, the church had elected a non-Italian pope. He was also the first Pole ever elected to the office.
Cardinal Karol Wojtyla, known now as Pope St. John Paul II, honored his predecessor by choosing the same name and became the second-longest serving pope in modern times.
The Catholic Telegraph reported that the new pope was a friend of then-Cincinnati Archbishop Joseph L. Bernardin, and that he'd visited Cincinnati as a cardinal in 1976. The above front page shows then Cardinal Wojtyla and Archbishop Bernardin conversing at the Cathedral of St. Peter in Chains during that visit.
The stories go on to mention Pope John Paul II's commitment to renewing the Second Vatican Council and his work opposing communism.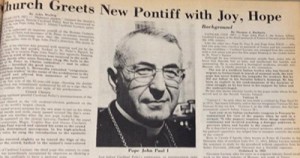 An interesting side note is that The Catholic Telegraph (and other publications at the time) named the previous pontiff (who lived 33 days in office) John Paul I, even as he was elected. Ordinarily, a pope isn't called the first until there is a second. Still, in the image seen at right, the then-living Pope John Paul is listed as John Paul I beneath his photo.
Adding to the print media's prophetic coverage, as the conclave gathered in October of 1978, another headline in The Catholic Telegraph (see right) read "Saddened Church Seeking Another John Paul."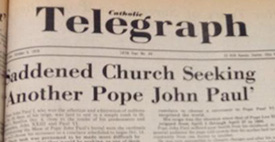 The church got what it was seeking, and the world gained a saint who reigned from October 16, 1978 until his death April 2, 2005.
Pope Saint John Paul II's first feast day since canonization will be celebrated Oct. 22. Unlike many saints the feast is not celebrated on the day of his death, but rather on the date of his papal inauguration.
Welcome to The Catholic Telegraph's edition of Throwback Thursday. Throwback Thursday is a weekly online activity wherein users of social media share an old photo or anecdote about times gone by. We plan to use Throwback Thursday to highlight the history of the Archdiocese of Cincinnati, and our publication.
Previous Throwback Thursdays
The death of a Pope
Guardian Angels artist was spot on
Catholic prep football in the CT
Archbishop Bernadin makes the Tribune
Sept. 11, 2001
Computers all the rage in 1983
English permitted in some rituals