Throwback Thursday: Make a newspaper into a papal miter

Staff Report
Today's Throwback Thursday goes back to 1987 when Pope John Paul II visited the United States. The image at right appeared in the Cincinnati Enquirer on Sept. 16, 1987 by way to the Los Angeles Times as a way for Catholics to participate in a papal visit.
The design concept goes back to when newspapers were of a slightly different dimension, but no doubt craft-inclined people can find a way to make it work today.
A tip of the miter goes out to Sarah Patterson, archivist for the Archdiocese of Cincinnati, who found this gem in the chancery archives.
That's all for today's Throwback Thursday as the staff is heading down to Cincinnati's Fountain Square to watch Pope Francis become the first pope to address a joint meeting of Congress.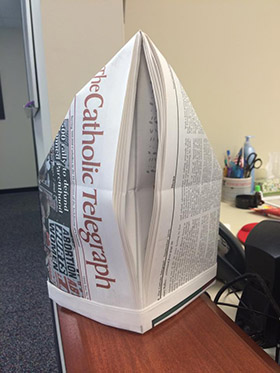 Welcome to The Catholic Telegraph's edition of Throwback Thursday. Throwback Thursday is a weekly online activity wherein users of social media share an old photo or anecdote about times gone by. We use Throwback Thursday to highlight the history of the Archdiocese of Cincinnati, and our publication.
Recent Throwback Thursdays
A glance at past papal pilgrimages
Did Cincinnati almost get a papal visit?
Sisters of the Poor rich in… Elephants?
Summer riding off into sunset
Archbishop installs neighboring bishop
Cutting edge tech in Catholic school in 1962
Posted Sept. 24, 2015