Throwback Thursday: Pope John Paul II survives second assassination attempt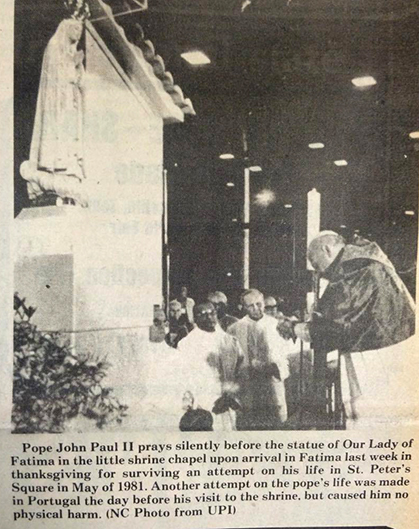 This history of the Church is sometimes marked by violent episodes. Such was the case 34 years ago today, May 12, 1982, when Pope St. John Paul II survived a second assassination attempt.
The first attempt on Pope John Paul II's life came a year earlier, May 13, 1981. The pontiff was shot four times and was seriously injured in that attack. This Throwback Thursday will focus on the second attempt on his life, in which the pope was not harmed.
Juan María Fernández Krohn, an illcitly ordained Catholic priest from Spain, rushed the pope with a bayonet in attempt to kill him. Krohn, at the time, was a member of the Society of St. Pius X.
According to a story in the May 21, 1982 edition of The Catholic Telegraph, Krohn reportedly shouted "down with the pope" and "down with the Second Vatican Council."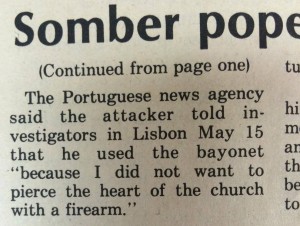 The story also notes an official Vatican statement said Krohn got within six yards of the Holy Father, though TV stations showed he may have made contact with the pope.
After serving three years of a six year prison sentence, Krohn was released. He later abandoned the priesthood. He was arrested again in 2000 after breaching security to approach Spanish King Juan Carlos.
A day after the attack in 1982, Pope John Paul II visited a shrine to Our Lady of Fatima in Fatima, where he prayed in Thanksgiving for surviving the attempt on his life in 1981.
A third attempt on the pope's life was planned by terrorists in 1995, but authorities managed to foil the plot before they could take action.
Welcome to The Catholic Telegraph's edition of Throwback Thursday. Throwback Thursday is a weekly online feature wherein users of social media share an old photo or anecdote about times gone by. We use Throwback Thursday to highlight the history of the Archdiocese of Cincinnati, and our publication.
Recent Throwback Thursdays
Feast of the Ascension 
Students prep for first communion
A Christian marriage pledge
Festivals a mark of faith and fun
Consider getting the print edition