Throwback Thursday: Role of women in church examined in 1975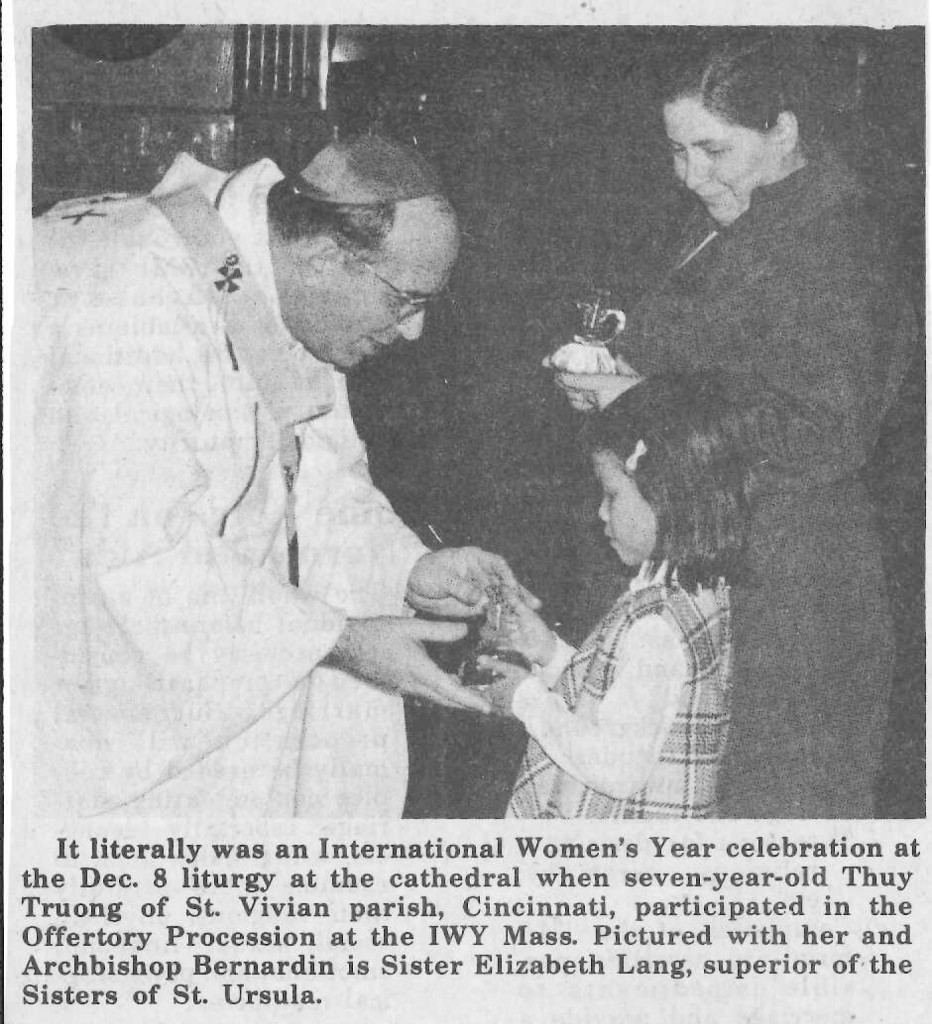 The United Nations dubbed 1975 as International Women's Year and ever since March 8 has been celebrated as International Women's Day. March is also Women's History Month in the United States.
The Archdiocese of Cincinnati celebrates the achievement of women throughout the church to this day, and took note of that 1975 observance with a closing liturgy that is the subject of today's Throwback Thursday.
On Dec. 8, 1975, the Feast of the Immaculate Conception, then-Archbishop Joesph L. Bernardin celebrated Mass to mark the end of International Women's Year. During his homily, the archbishop said there was a "heightened awareness of woman's essential equality with man… based ultimately on the dignity of the human person who is created in the image and likeness of God."
He continued, "Equality does not mean sameness; there is a distinction between woman and man. Though equal, they are different."
The photo with this post comes from the Dec. 12, 1975 edition and accompanies the story quoted above. In the image, then-seven-year-old Thuy Truon of St. Vivian parish participates in the offertory at Mass along with Ursuline Sister Elizabeth Lang, then-superior of her order.
The distinct equality that Archbishop Bernardin spoke of continues to factor in to the church's evolving roles for women. On March 8 of this year the Vatican hosted a "Voices of Faith" celebration for International Women's Day. (Read all about it HERE)
Certain issues such as ordination to the priesthood appear to be definitively settled, but women continue to gain important positions in the church, heading universities, diocesan offices and more. In the liturgy, women may serve at the altar, be a lector or serve as extraordinary minister of Holy Communion.
In his annual Q&A with high school students current Archbishop of Cincinnati Dennis M. Schnurr noted that in addition to all that, "our choirs would be pretty dull if not for the voices of women in those choirs."
Discussing the role of women in the church back in 1975, Archbishop Bernardin closed with the following.
"The important thing is that we never let anything stand in the way of our communication and dialogue with each other. In the final analysis only truth —the truth of Christ as handed on to us by His Church — can be the criterion by which we evaluate our efforts of the past and plan for the present and future."
Welcome to The Catholic Telegraph's edition of Throwback Thursday. Throwback Thursday is a weekly online feature wherein users of social media share an old photo or anecdote about times gone by. We use Throwback Thursday to highlight the history of the Archdiocese of Cincinnati, and our publication.
Recent Throwback Thursdays
Just keep slugging
Farewell to the Catholic Chronicle
McDonald's Fish sandwiches started here
Consider getting the print edition
New computers, same mission