Throwback Thursday: Summer fun with a nun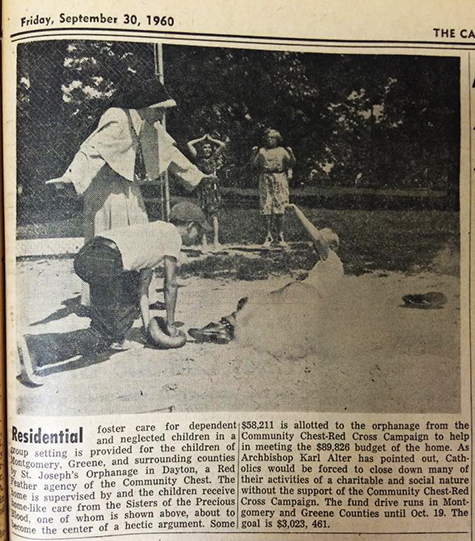 Staff Report
Nothing says summer like some sandlot baseball, and nothing shows the commitment of the Sisters of the Precious Blood like the photo accompanying this Throwback Thursday story.
The unnamed sister in full habit seen in the photo above is calling a young boy safe as he slides into home plate during a game played at St. Joseph's Orphanage in Dayton. Two girls look on in anticipation. The sister may have expected to work in education or youth ministry when she entered the order, but she may not have known she'd be playing home plate umpire.
The context for the photo, when it appeared in the Sept. 30, 1960 edition of The Catholic Telegraph-Register, was to promote St. Joseph's Orphanage and the Red Cross-Community Chest campaign.
The now-defunct orphanage provided foster care and later other services to the children of Montgomery, Greene and surrounding counties from the mid-1800s until closing in 2004. The Sisters of the Precious Blood ran the facility from for 76 years from 1891 until 1967 when the Sisters of St. Francis took over.
The St. Joseph's Orphanage referenced in this photo is not to be confused with the present organization operating under that name at four locations throughout the Archdiocese of Cincinnati. The present St. Joseph Orphanage was founded by the Sisters of Charity.
The Sisters of the Precious Blood no longer own the site of the defunct St. Joseph's, but the location continues to operate as The Glen at St. Joseph. The Glen is a Christian organization that seeks to help single mothers rise from poverty. In addition, four Precious Blood Sisters continue to rent apartments at the site.
The Sisters of the Precious Blood no longer run any orphanages but the Dayton-based order continues to serve the church via a variety of ministries including hospital visits, parish pastoral care, religious formation, spiritual direction and more.
Welcome to The Catholic Telegraph's edition of Throwback Thursday. Throwback Thursday is a weekly online activity wherein users of social media share an old photo or anecdote about times gone by.We use Throwback Thursday to highlight the history of the Archdiocese of Cincinnati, and our publication.
Recent Throwback Thursdays
Priests reflect on first year
Every bishop was ordained a priest first
Archbishop goes to Rome for Holy Year
Cathedral under construction
Birth of a papacy
Posted May 28, 2015