Throwback Thursday: The death of Pope St. John Paul II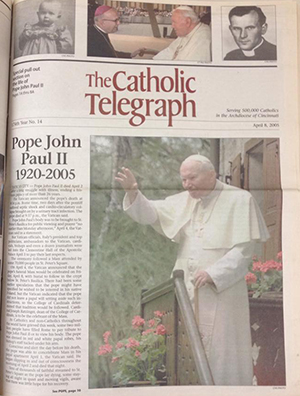 Staff Report
For a generation, one man embodied the word pope. Born Karol Wojtyla, he became Pope John Paul II in 1978 and remained in that role until his death, 10 years ago today on April 2, 2005.
Today's Throwback (Holy) Thursday remembers the pontiff who's death prompted chants of "Santo subito" (Rough translation: Make him a saint now) and who's life showed the world how to bear suffering with great dignity.
With thousands gathered in Rome and the media on watch, word of Pope John Paul II's death had made its way around the world moments after it occurred. The April 8, 2005 edition of The Catholic Telegraph was therefore able to offer a retrospective on his life, as opposed to just breaking news. An eight-page commemorative special section was included in the edition with a breakdown of the Holy Father's travels, accomplishments and bits of wisdom.
While the Archdiocese of Cincinnati was never blessed with a visit from Pope John Paul II, the saint did visit Cincinnati as Cardinal Wojtyla in 1977. A photo of that visit, included at right, shows Cardinal Wojtyla smiling and laughing with then-Cincinnati Archbishop, the late Cardinal Joseph Bernardin at the Cathedral of St. Peter in Chains.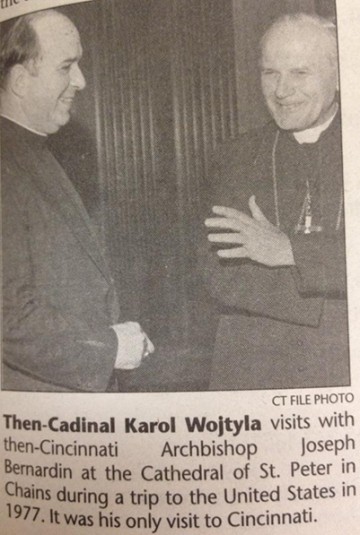 In 2015 there is much talk of Pope Francis' geniality and personality adding a new dimension to the papacy, but 10 years earlier, Pope John Paul II was remembered for doing much the same.
"He made the church present and real to all parts of the world through his tireless travels," then-Archbishop of Cincinnati Daniel E. Pilarczyk said in the April 8, 2005 edition. "His personal accessibility and hospitality gave the papacy a dimension that it did not have before."
Pope John Paul II, who the April 8 edition of The Catholic Telegraph already dubbed John Paul the Great, was canonized by Pope Francis on April 27 of last year, along with Pope John XXIII.
Welcome to The Catholic Telegraph's edition of Throwback Thursday. Throwback Thursday is a weekly online activity wherein users of social media share an old photo or anecdote about times gone by. We use Throwback Thursday to highlight the history of the Archdiocese of Cincinnati, and our publication.
Recent Throwback Thursdays
Archbishop Elder's Sick Call Box
When Dayton won it all — sort of
Bishop on a bulldozer
Remembering Sister Dorothy Stang
Catholic Press Month
Posted April 2, 2015