Transitions at Wright State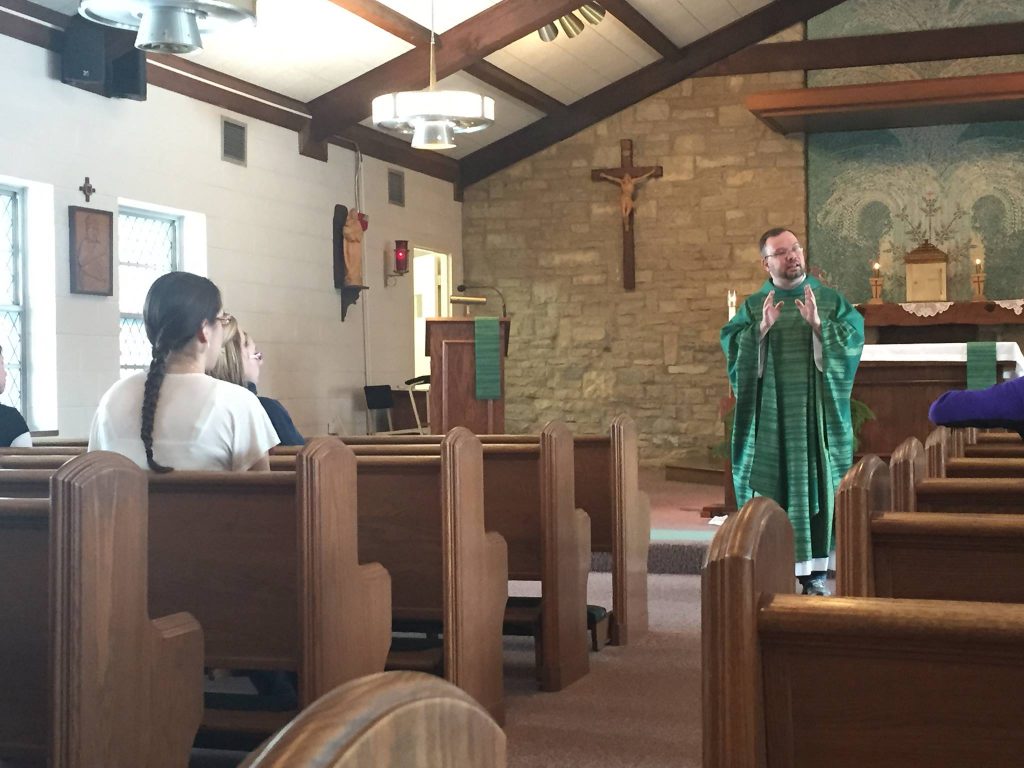 Priest who built campus ministry moves to parish life; who's next for WSU
This story first appeared in our July, 2018 print edition
By Walt Schaefer
Father Ed Burns, who has served as Director of Catholic Campus Ministry at Wright State University for the past dozen years, hopped in his car recently and headed south to his new appointment as pastor at St. Michael Parish in Sharonville.
    It's pretty likely Father Ethan Moore jumped on his motorcycle, dressed in clerics, and departed St. Peter Parish in Huber Heights, zooming off to fill Father Burns's shoes at Wright State.
     It is transition time in the Archdiocese of Cincinnati. Each spring, Archbishop Dennis M. Schnurr decides which priests will move and where they'll go.
      But Father Burns's move involves a dedicated clergyman who saw the campus ministry at the state university grow and prosper. His work has reflected growth in Catholic student involvement in the faith, as well as bricks and mortar growth with construction of a $1.5 million chapel and community room.
     "I have plenty of observations about young people today and there are a few things that young adults are looking for right now," Father Burns said.
     One thing they are seeking is community. "Young people want to be with fellow young people who are going through the same experiences in college. They want to discern what their major, what their vocation in life is. They are asking questions about their faith and growing into adulthood, where they understand things on their own," he said.
     "They want to be with people who hold similar values, who do value Catholicism. We have thousands of students, but these (Catholic) kids, if they're practicing, want to be with other students who also want to go to Mass, and that's one thing we provide here."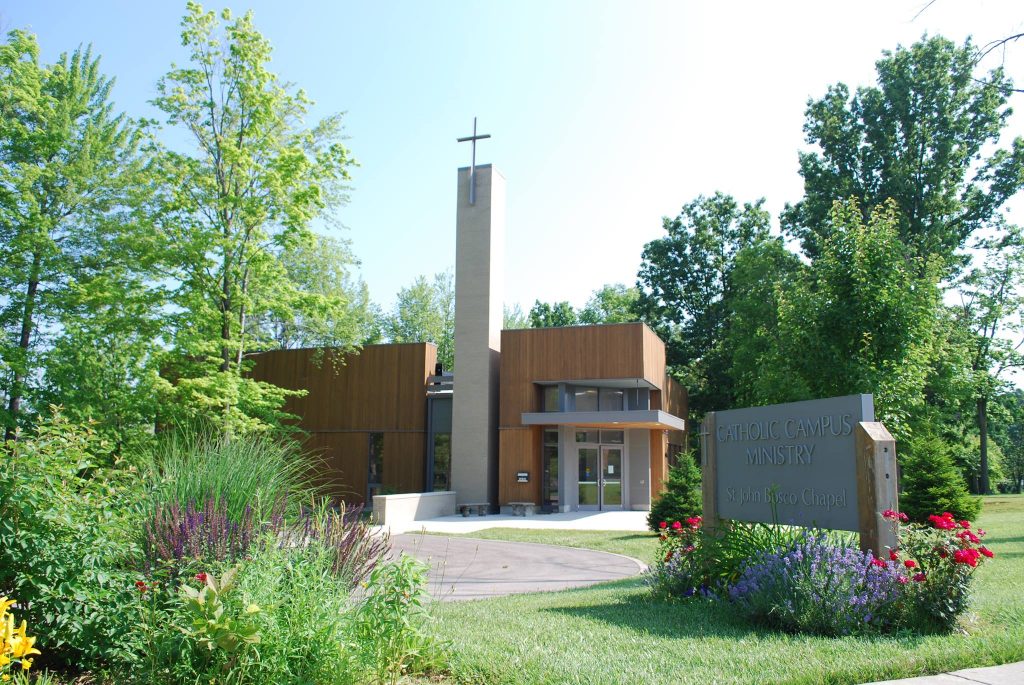 "Another thing is we have a building now and they can just be here," Father Burns added. "There is a room that is their living room throughout the week, a student lounge where they can come and do homework. There are usually leftovers in the refrigerator — they also like to be fed. That worked for Jesus and works for us. When you think about it, the loaves and the fishes, the wedding in Cana, it's a way into a person's life, and I often preach about a person who you've eaten a meal with in their home or yours. That person is much more of a friend than someone you've never had a meal with. So we are building that kind of connection."
      Under his leadership, catechesis has taken a front row pew. "We teach about the faith and students want to know what their faith teaches. They are asking questions and making a transition. They want to know about their faith. It's something we need to do as ministers, something we need to do as a church," he said.
      The archdiocese has offered campus ministry at Wright State since 1968 — just four years after the school's founding. The university has some 4,000 Catholic students today, and Father Burns has seen about 1,000 in the course of his ministry. It's largely a commuter school, so many other Catholic students continue to prac-
tice the faith with their families at their home parishes.
      Key to the health of campus ministry at Wright State is the chapel built in 2012 under Father Burns's direction. It replaced what was meant to be a temporary chapel constructed in 1971 on archdiocesan land adjacent to the campus.
     The old chapel "was antiquated and falling apart and not appropriate for Wright State, as the school is known as being very accessible for wheelchairs and disability access," Father Burns explained. "Then we were a growing community, with 18,000 students in 2006. We could only fit about 60 people in the old chapel for Mass." The  building's community room, he said, needs to be enlarged next to meet student demand.
     As he departs, Father Burns said he will baptize two infants of two Catholic couples who met at Wright State. He presided at the marriages of both couples, and so far, has baptized five of their children.
     Father Burns said his departure will lead to a new challenge closer to his West Chester roots. "I will certainly miss those Wright State relationships, but at the same time, I'm excited for new challenges — getting to know people at St. Michael's and going back into a full parish program with an elementary school. I haven't had that experience in 12 years, so I'm excited."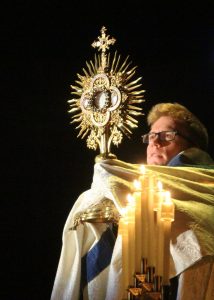 Father Moore's departure from the St. Peter cluster of parishes will be bittersweet as well.
      "I love everyone at St. Peter's, Our Lady of the Rosary, Holy Cross, and St. Adalbert," said Father Moore, who, at 33,  is among the youngest priests in the archdiocese. "It has been a great experience. I feel so blessed by the openness of  the people. 
     "The four years (of college) is so critical in the development of people of faith because it is a real time for ownership," he ontinuedd "You're open to learning about a major, about a career that you might wantto purue. How pivotal it is at that time to come alive in your faith so that those two things kind of dovetail.  
     "You become a person who pursues worldly aims, but also one with a grounding and relationship with God where you're asking the question: 'What you want of me of my life?'
     "I'm totally excited about walking with college-age folks along that path," he said.
"On a college campus if you are not part of something, whether it's a sports team or fraternity or sorority or some extracurricular group, it's easy to get lost. There's such a need to belong.
     "One of my hopes is that at the chapel we are like a hub for true community where people feel welcomed to belong and be inspired by people who care for them, and all of that works towards finding the direction of where God is at play in their lives."